When I first started paying attention to the writing business, many, many years before I was published, almost every writer wanted to have her book chosen for Oprah's Book Club. That was seen as a way to guarantee success in Bookland.
Of course, many writers didn't have their books chosen. The odds of having a book chosen for Oprah's Book Club was about the same as winning a lottery.
And those 'unlucky' writers? Some of them are huge bestselling writers today. The world didn't end for them because they weren't chosen. (grins) They did okay.
Today, the perceived way to 'guarantee' success is to land a BookBub deal ( https://www.bookbub.com/home/ ).
I often hear writers say 'If I could land a BookBub deal, I'd have a readership and I'd never have to promote again.' Then, if they don't land that deal, they figure all is lost…until the next month, when they try again.
BookBub Deals, from what I hear, are great. They CAN move a writer to the next level in her career. They can introduce that book to a whole different readership. They can get a writer noticed.
(These writers still have to promote but that's an entirely different blog post.)
I say 'from what I hear' because I've NEVER had a BookBub Deal. NEVER. I've applied every month for years and have been denied. I've tried just about everything to land one and haven't been successful.
There's a huge luck component with these deals. Sometimes you get lucky. Sometimes you don't.
Getting turned down for a BookBub Deal doesn't mean you or your book is bad or unmarketable. Some of the top selling writers have never had a BookBub Deal and they do okay (grins again).
That's because they don't pin all of their hopes and dreams on that one promotional vehicle. They know there are a gazillion ways to find readers. A BookBub Deal is an awesome route. I plan to continue applying for them. But I am also having fun with other ways
(I'm on the slow path. I think I've 'talked' to every reader who has purchased one of my books… and I'm super cool with that. My reading buddies truly are my buddies.)
There are many ways to find the right readers for your awesome new book. BookBub is merely one of them.
***
Subscribe To My Monthly Newsletter: http://tasteofcyn.com/2014/05/28/newsletter/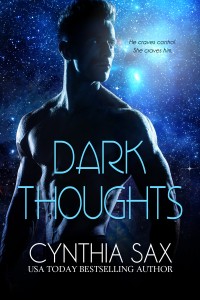 Can love redeem a monster?
The Refuge is home to some of the most violent beings in the universe. Kralj, its leader, reigns over the remote outpost with terrifying ease, ruthlessly squashing any rumors of rebellion, killing anyone who breaks his rules. Primitive, deadly, powerful, he's a monster, scarred both on his face and his soul. He has never met a being he couldn't control.
Until he meets her.
Dita has one mission—to kill the three targets claiming sanctuary within the Refuge. Or so she claims. For the first time in his long lifespan, Kralj isn't certain of another being's intentions. The tiny assassin is immune to his powers, her thoughts unreadable. He can't predict her movements, can't control her, can't stop wanting her.
Dita is rare, as unique as he is, and, to keep the residents of the Refuge safe, Kralj will have to kill her. But first, he'll touch her, taste her, show her how passionate the beast inside him can be.
Dark Thoughts is a STAND-ALONE SciFi Romance.
The hero might be tall, dark, and scarred but don't be fooled by his appearance.
He's truly a monster.
This story is not for readers with delicate sensibilities.
Order Now:
Amazon US: https://www.amazon.com/Dark-Thoughts-Refuge-Book-1-ebook/dp/B01MRAABGC/
Amazon UK: https://www.amazon.co.uk/Dark-Thoughts-Refuge-Book-1-ebook/dp/B01MRAABGC/
Apple/iBooks/iTunes: https://itunes.apple.com/us/book/dark-thoughts/id1200022597
B&N: http://www.barnesandnoble.com/w/dark-thoughts-cynthia-sax/1125580992
Kobo: https://www.kobo.com/us/en/ebook/dark-thoughts-3
Smashwords: https://www.smashwords.com/books/view/699393
Topics: Writing Tips | No Comments »
Renee Rose posted an awesome article on writer newsletters and she gave my newsletter a shout out! Woot!
http://writesexright.com/2016/01/16/getting-max-author-newsletter/
IMHO… a newsletter is not only a writer's best way of promoting (we completely control it) but it also is expected by reading buddies. Reading buddies asked me to send a newsletter. I love it! I offer my newsletter subscribers exclusive, never-published-anywhere-else stories like Being Green, a cyborg short.
***
Subscribe To My Release Day Newsletter: http://tasteofcyn.com/2014/05/28/newsletter/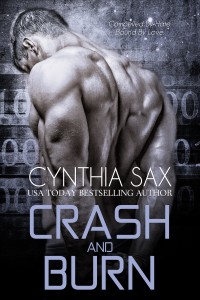 Crash And Burn
Crash was manufactured to be one of the best warriors in the universe. The cyborg has spent many human lifespans fighting the enemy. But, unlike his battle-loving brethren, he doesn't enjoy killing. When he escapes the Humanoid Alliance, he vows to never end another life.
Then he meets Safyre, an infuriating human female, and he considers breaking his vow.
Safyre will do anything to save her friend, the being she loves like a sister. She'll ravish a huge hunky cyborg, kiss his best friend, and invoke scorching hot desires the male never realized he could feel. Dark soulful eyes, a quick wit, and a tempestuous passion won't divert her from her mission.
Love, and a planet-destroying weapon, however, might stop her permanently.
Pre-order Now:
On Amazon US: http://www.amazon.com/Crash-Burn-Cyborg-Sizzle-Book-ebook/dp/B019EBKIF2
On Amazon UK: http://www.amazon.co.uk/Crash-Burn-Cyborg-Sizzle-Book-ebook-x/dp/B019EBKIF2/
On ARe: https://www.allromanceebooks.com/product-crashandburn-1950244-147.html
On B&N: http://www.barnesandnoble.com/w/crash-and-burn-cynthia-sax/1123141101
On Kobo: https://store.kobobooks.com/en-ca/ebook/crash-and-burn-13
Topics: Guest Post, Writing Tips | No Comments »