I'm talking about Gladiators and Dark Warlord, my contribution to the awesome Alien Alphas box set on the terrific Lexi Post's blog today.
Here is a snippet…
"In Dark Warlord, this dance is even more stimulating as the hero is fighting the heroine. There's sexual I-want-her-so-bad tension and combat I-might-die-right-now tension whenever contact is made. They desire each other but they are also trying to kill each other. There's accidental and not-so-accidental touching. The taunts and comments have a sexual edge to them."
Read the entire post here: http://www.happilyeverafterthoughts.com/2017/12/dark-warlord-by-cynthia-sax-in-alien.html
***
Subscribe To My Monthly Newsletter: http://tasteofcyn.com/2014/05/28/newsletter/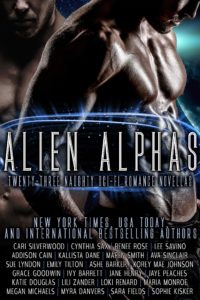 Alien Alphas: Twenty-Three Naughty Sci-Fi Romance Novellas
Fierce warriors. Savage barbarians. Powerful warlords.
All ready to claim their mates.
Alien Alphas is a collection of panty-melting sci-fi romances featuring dominant alien heroes, penned by New York Times, USA Today, and international bestselling authors. This decadently naughty box set includes twenty-three ALL-NEW, stand-alone novellas full of hot alien alpha males, breathless passion, and reluctant surrender. Take an exhilarating trip beyond the stars with this limited time only bundle that's sure to leave you turning the pages late into the night.
Featured authors: Cari Silverwood, Cynthia Sax, Renee Rose, Lee Savino, Addison Cain, Kallista Dane, Maren Smith, Ava Sinclair, Sue Lyndon, Emily Tilton, Ashe Barker, Korey Mae Johnson, Grace Goodwin, Ivy Barrett, Jane Henry, Jaye Peaches, Katie Douglas, Lili Zander, Loki Renard, Maria Monroe, Megan Michaels, Myra Danvers, Sara Fields, and Sophie Kisker
Publisher's Note: The stories featured in this collection involve MF and MFM pairings. They include spankings and sexual scenes. If such material offends you, please don't buy this box set.
Pre-order Now:
Amazon: https://www.amazon.com/dp/B0785FQ2BH/
Nook: https://www.barnesandnoble.com/w/alien-alphas-grace-goodwin/1127581629
Kobo:  https://www.kobo.com/us/en/ebook/alien-alphas
Google Play: https://play.google.com/store/books/details?id=wURBDwAAQBAJ