I messed up.
I loaded Knowing Zip to Smashwords (a distributor who sends the book to all booksellers except for Amazon) too late.
Sometimes it takes a day for books to be approved.
Right now, it seems to be taking longer than a week.
Knowing Zip WILL be available at ALL booksellers eventually.
Right now, it is only available at Smashwords.
https://www.smashwords.com/books/view/761413
You can read it Online like a webpage using the Online Reader option (no sign up necessary!).
If you have a Kindle, there is a Mobi (Kindle) option.
I'll let you all know when it releases at booksellers.
Again, I apologize.
I miscalculated how many great books would be releasing right now and how that would change the wait time.
***
Subscribe To My Monthly Newsletter: http://tasteofcyn.com/2014/05/28/newsletter/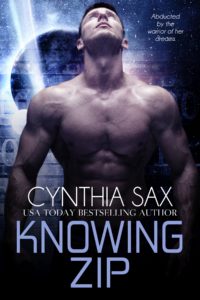 Knowing Zip
Abducted by the warrior of her dreams.
Zip is the last of his friends to find his female, the one being meant for him. He isn't certain she exists until he hears her voice over a transmission. A self-proclaimed systems deity, he researches his curvy little human and discovers she dreams of being abducted by a big, strong warrior. Zip plans to make his female's fantasies come true.
Ryssa wants one gift for her birthing planet rotation—to be captured by a warrior, preferably a tall, muscular cyborg with black hair, gray skin, and brilliant blue eyes. When Zip arrives on her planet, claiming to be her male, Ryssa assumes one of her friends has ordered the experience for her, and throws herself into the encounter, losing herself in Zip's hot kisses, sensual touch, dominant embrace.
When the fantasy fades, will their love survive?