I read a great post today on whether or not heroines in romance novels should be beautiful. Kandy Shepherd's view was romance novels are fantasy and most of us fantasize about being an idealized image of ourselves.
I don't.
I fantasize that the hero would find ME beautiful. I'm a plus-sized gal and not one of those plus-sized gals with beautiful faces either. I have, I joke, a face for radio.
That has never hampered my love life. My Great Aunt Ethel, not a great looker herself, once told me, "It isn't how you look FOR a man that counts. It is how you look AT a man." She said that between dates.
I took that advice to heart.
The super fit, good looking Dear Wonderful Hubby, for some bizarre reason, thinks I'm gorgeous. THAT is the type of love I know and the type of love I write.
Kasia, the heroine of Seeking Vector, is ironically one of my prettier heroines. She doesn't view herself this way. Our heroine has been hiding on the enemy battle station for solar cycles. She is above average in height, has lean muscles and slight curves. Humanoid Alliance crew members on board the battle station have mistaken her for a fellow male. That would make any female insecure about her beauty.
Vector, being a large C Model cyborg, appreciates muscle on a female. He loves that she is tall and strong, not easily broken. Our cyborg captain thinks she is the most gorgeous creature he has ever met.
Other heroines in the cyborg series have abundant curves, stocky builds, scars, stretch marks, gray hair. They are all different, flawed, real and their heroes love them like that.
I love writing these types of heroines. They make stories even more fun to craft.
What do you think? Are you always beautiful in your fantasies or do you inhabit different bodies in your dreams?
***
Subscribe To My Monthly Newsletter: http://tasteofcyn.com/2014/05/28/newsletter/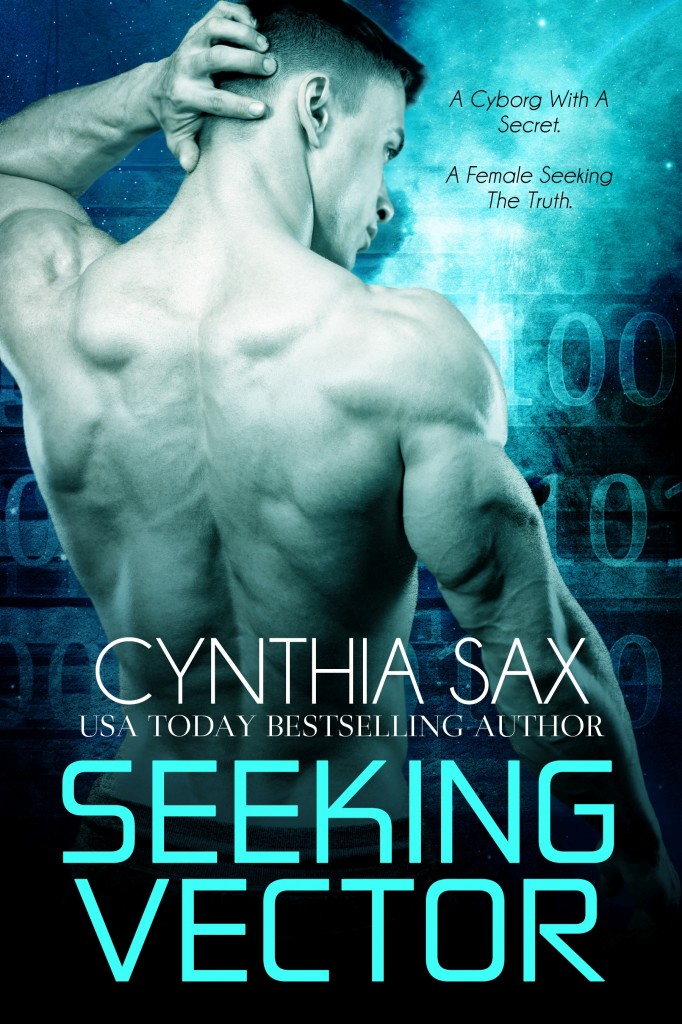 Seeking Vector
A cyborg with a secret… A female seeking the truth…
Vector, the C Model captain of the Freedom, is a cyborg many warriors wish to emulate. He fights fiercely, leads with honor, has earned the respect and loyalty of his crew. But no being, not even a cyborg, is perfect. Since arriving at the Homeland, Vector has been hiding a dark truth about his past. If his secret is exposed, he could lose everything – his position, his ship, and his life.
Kasia excels at uncovering secrets. Half a lifespan ago, her curiosity placed her on the Humanoid Alliance's kill list. Now she has accessed information the cyborg council would prefer remain hidden. Their warriors are hunting her and won't rest until she's dead.
When Vector arrives on her battle station, all grim determination, gray skin, and bulging muscles, Kasia knows he has been sent to kill her. That doesn't stop her from wanting the dominant cyborg. She senses the savage nature under the male's controlled exterior, sees the mysteries in his brilliant blue eyes, craves the roughness of his touch. She will risk all she has to experience his embrace.
Kasia braved the cyborg council's ire for a reason. If she doesn't convince Vector to act on the information she uncovered, the enemy could destroy his home planet and render every cyborg in the universe immobile.
Can a doubting C Model warrior learn to trust and to love before it is too late?
Seeking Vector is Book 10 in the Cyborg Sizzle series and is a STAND-ALONE story.
It is also a Cyborg SciFi Romance.
Pre-order Now:
Amazon US: https://www.amazon.com/Seeking-Vector-Cyborg-Sizzle-Book-ebook/dp/B075FHBW87/
Amazon UK: https://www.amazon.co.uk/Seeking-Vector-Cyborg-Sizzle-Book-ebook/dp/B075FHBW87/
Apple/iBooks/iTunes: https://itunes.apple.com/us/book/seeking-vector/id1280185990
B&N: https://www.barnesandnoble.com/w/seeking-vector-cynthia-sax/1127072529
Kobo: https://www.kobo.com/us/en/ebook/seeking-vector
Smashwords: https://www.smashwords.com/books/view/746717