The always awesome Shelley Munro has interviewed me!
Here's a snippet…
"Shelley Munro – If a reader visits your Facebook page they soon learn you have a great sense of humor and a sense of fun (plus an awesome hubby!) yet your writing is quite dark. How do you explain that and what attracts you over to the dark side?
Cynthia Sax – I am fascinated with military history (if we don't learn from history, we tend to repeat it) and I really wanted to tell the story of the cyborgs starting when they rebelled against their manufacturers. The cyborgs were created to fight wars. Any rebellion would happen during wartime and be quite violent. To make this series light in tone wouldn't be true to the setting and would diminish what today's warriors are experiencing.
But there IS humor and, of course, happy endings (for main characters and for past couples – everyone else is at risk). Humor is a survival tactic we see employed even during our darkest times. It is one of our great strengths."
Read the full interview here: https://shelleymunro.com/blog/2017/08/19/interview-with-cynthia-sax-scifi-cyborgs-cynthiasax/
***
Subscribe To My Monthly Newsletter: http://tasteofcyn.com/2014/05/28/newsletter/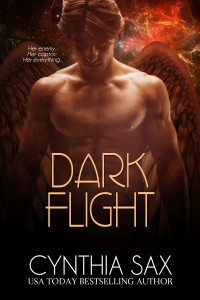 Dark Flight
His mission. His challenge. His forever.
Orol, the Refuge's second-in-command, has been given what he believes is a simple mission—escort two human females to the settlement. The winged warrior arrives at the meeting site to find one of the females missing and the other aiming a gun at his head. To rescue the first, he must capture the second. Once he has Rhea in his talons, however, he realizes he never wants to let her go.
Her enemy. Her captor. Her everything.
Rhea doesn't trust anyone. She certainly doesn't follow commands issued by a gorgeous flying male with glittering eyes, a beautiful face, and a seductive touch. Orol is dominant, edged with darkness, and determined to find her sister. Rhea will do anything to prevent that, even if it means playing sensual games of submission with her powerful enemy, seducing him into forgetting everything except her.
Dark Flight is a STAND-ALONE SciFi Romance set in a gritty, dark world.
Buy Now:
Amazon US: https://www.amazon.com/Dark-Flight-Refuge-Book-2-ebook/dp/B07124941B/
Amazon UK: https://www.amazon.co.uk/Dark-Flight-Refuge-Book-2-ebook/dp/B07124941B/
Apple/iBooks/iTunes: https://itunes.apple.com/us/book/dark-flight/id1242494643
B&N: https://www.barnesandnoble.com/w/dark-flight-cynthia-sax/1126484675
Kobo: https://www.kobo.com/us/en/ebook/dark-flight-3
Smashwords: https://www.smashwords.com/books/view/727350