I've received messages about Balvan, the giant green gatekeeper of the Refuge. He appears in Chasing Mayhem, Dark Thoughts and Dark Flight.
He threatened to take over Dark Flight. I had to limit his scenes because he tended to steal them. Which wouldn't be fair to Orol and Rhea. They had their own thrilling tale to tell.
Balvan's story is next (Dark Strength – releasing early 2018) and I can't wait to write it. Due to his size, the modified humanoid has spent his lifespan being misunderstood. Folks are scared of him. They don't know he can be a gentle giant (when he's not crushing skulls).
Balvan is deserving of love yet he doesn't believe he'll ever experience it. So he showers love on the tiny creatures he rescues. (The puffker in Dark Flight belongs to him.)
I'm looking for the perfect female for him. It won't be Paloma, Rhea's sister. She is much too young for Balvan. He views her as he views the puffker – as a being to care for, to protect, to dote over. Paloma, I suspect, being a self-absorbed teenager, might also unknowingly put another dent in that big heart of his. Balvan tends to become attached to the beings he cares for.
Which makes the hunt for his female even more important. Once he finds her, Balvan will never let her go.
***
Subscribe To My Monthly Newsletter: http://tasteofcyn.com/2014/05/28/newsletter/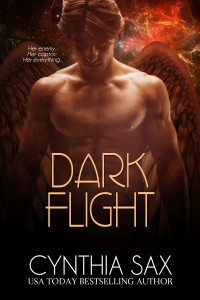 Dark Flight
His mission. His challenge. His forever.
Orol, the Refuge's second-in-command, has been given what he believes is a simple mission—escort two human females to the settlement. The winged warrior arrives at the meeting site to find one of the females missing and the other aiming a gun at his head. To rescue the first, he must capture the second. Once he has Rhea in his talons, however, he realizes he never wants to let her go.
Her enemy. Her captor. Her everything.
Rhea doesn't trust anyone. She certainly doesn't follow commands issued by a gorgeous flying male with glittering eyes, a beautiful face, and a seductive touch. Orol is dominant, edged with darkness, and determined to find her sister. Rhea will do anything to prevent that, even if it means playing sensual games of submission with her powerful enemy, seducing him into forgetting everything except her.
Dark Flight is a STAND-ALONE SciFi Romance set in a gritty, dark world.
Buy Now:
Amazon US: https://www.amazon.com/Dark-Flight-Refuge-Book-2-ebook/dp/B07124941B/
Amazon UK: https://www.amazon.co.uk/Dark-Flight-Refuge-Book-2-ebook/dp/B07124941B/
Apple/iBooks/iTunes: https://itunes.apple.com/us/book/dark-flight/id1242494643
B&N: https://www.barnesandnoble.com/w/dark-flight-cynthia-sax/1126484675
Kobo: https://www.kobo.com/us/en/ebook/dark-flight-3
Smashwords: https://www.smashwords.com/books/view/727350