I'm talking about Dark Flight and Dark Worlds with Delilah Devlin!
http://www.delilahdevlin.com/blog/2017/06/14/cynthia-sax-dark-flight-and-dark-worlds/
Here's a snippet…
Recently, some writing buddies and I were talking about whether or not there's a place for romances with dark tones or themes in a world that seems to have become darker. During uncertain times, will readers continue to read dark toned romances?
***
Subscribe To My Monthly Newsletter: http://tasteofcyn.com/2014/05/28/newsletter/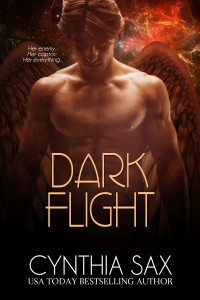 Dark Flight
His mission. His challenge. His forever.
Orol, the Refuge's second-in-command, has been given what he believes is a simple mission—escort two human females to the settlement. The winged warrior arrives at the meeting site to find one of the females missing and the other aiming a gun at his head. To rescue the first, he must capture the second. Once he has Rhea in his talons, however, he realizes he never wants to let her go.
Her enemy. Her captor. Her everything.
Rhea doesn't trust anyone. She certainly doesn't follow commands issued by a gorgeous flying male with glittering eyes, a beautiful face, and a seductive touch. Orol is dominant, edged with darkness, and determined to find her sister. Rhea will do anything to prevent that, even if it means playing sensual games of submission with her powerful enemy, seducing him into forgetting everything except her.
Dark Flight is a STAND-ALONE SciFi Romance set in a gritty, dark world.
You Can Pre-order Now:
Amazon US: https://www.amazon.com/Dark-Flight-Refuge-Book-2-ebook/dp/B07124941B/
Amazon UK: https://www.amazon.co.uk/Dark-Flight-Refuge-Book-2-ebook/dp/B07124941B/
Apple/iBooks/iTunes: https://itunes.apple.com/us/book/dark-flight/id1242494643
B&N: https://www.barnesandnoble.com/w/dark-flight-cynthia-sax/1126484675
Kobo: https://www.kobo.com/us/en/ebook/dark-flight-3
Smashwords: https://www.smashwords.com/books/view/727350