"I don't like giving out ARCs."
"I don't like attending conferences."
"I don't like putting keywords in titles."
"I don't like man titty on covers."
"I don't like giving away books."
Then don't do it. Yes, it is THAT simple.
It won't be the end of your career. Hey, it might even be good for your career. Why? Because you will be happier, care more, perhaps write more. Readers can sense that.
"But-but-but I HAVE to do it."
No, you don't. I don't know one thing, outside of actually getting books written, that is essential for a writer's success.
Sure, it helps if you have a half decent cover (i.e. a cover readers don't wince at when they see it) but I know writers who have dreadful covers and they have found readers who don't give a shit about that. Sure, spellchecking a story before it is published seems like a necessity but I know writers who have books filled with spelling errors and they have readers. These readers might be challenging to find but they are out there.
There are no rules. None. If you don't like something, ask yourself why you are doing it. If it is because you think every other writer is doing it, I can assure you they aren't.
In some ways, this makes this wonderful career more challenging. There's no blindly following the crowd, allowing others to make our decisions for us. Everything is a decision. But there's a reward for that additional work. We can craft the career we truly want.
The flipside of this is… we don't get to dictate what other writers do with their careers either. If Writer X wants to give away all of her stories for free, she can. If Writer Y wants to put every keyword she knows into her titles, she can. There are no rules.
Craft the career you wish. Enjoy this wonderful experience.
***
Subscribe To My Monthly Newsletter: http://tasteofcyn.com/2014/05/28/newsletter/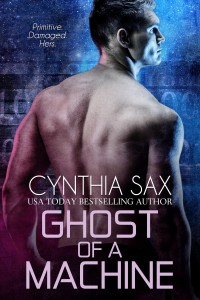 Fragile. Stubborn. His.
Ghost, a C Model cyborg, has disconnected his machine from his human side. Severely damaged, he knows two things—the curvy human female on his ship belongs to him and he must keep her safe. He'll stop at nothing to protect her, claim her, make her his.
Primitive. Damaged. Hers.
Lethe has seen the savage side of beings. The courageous Rebel captain has never met a male like Ghost. Overpoweringly dominant, he appeals to her on a primal level, filling her mind with thoughts of sweet surrender, hard kisses, and body-heating encounters against the warship's walls.
They are two broken beings, one determined to protect, the other intent on flying into danger. Can love heal them both before they face their common enemy?
Ghost Of A Machine is Book 9 in the Cyborg Sizzle series and is a STAND-ALONE story.
It is also a BBW Cyborg SciFi Romance.
Pre-order Now:
Amazon US: https://www.amazon.com/Ghost-Machine-Cyborg-Sizzle-Book-ebook/dp/B06XR6M6GG/
Amazon UK: https://www.amazon.co.uk/Ghost-Machine-Cyborg-Sizzle-Book-ebook/dp/B06XR6M6GG/
Apple/iBooks/iTunes: https://itunes.apple.com/us/book/ghost-of-a-machine/id1218969448
B&N: http://www.barnesandnoble.com/w/ghost-of-a-machine-cynthia-sax/1126040142
Kobo: https://www.kobo.com/us/en/ebook/ghost-of-a-machine