I sat down (virtually) with Marteeka Karland for a short interview. This is Marteeka's release day! Woot! Her new release, Men of Honor: Rafe, is Contemporary Military Romance with a former Navy Seal hero.

Cynthia Sax: What excites you most about Men of Honor: Rafe?
Marteeka Karland: EVERYTHING! I wrote this story at lightning speed. It just seemed to flow from my fingers! Grant it, it was a little rough (talk to my editor about that…) but there was nothing forced. I loved every single character I created. I loved the world. I loved the heroines and heroes. I'm excited to see if readers love them as much as I do. So far, my beta's have loved it. 🙂
Cynthia Sax: What is your favorite line from Men of Honor: Rafe?
Marteeka Karland: "Let's get a couple things straight, comedy boy. You want no part of me. You might think you do, but I guarantee you don't. Second, Amanda is mine. I protect what's mine." (it's a little Alpha man thumping his chest like an animal, but I love it. 🙂 )

Cynthia Sax: Mmmm… I do love a beastly hero. How does Men of Honor: Rafe start?
Marteeka Karland: The first part of the story is actually somewhat true. Including the horrible joke from the first line (groaner!!!) I dated a guy (who now writes for the CBS show, Scorpion… which I refuse to watch now. #NotBitter) who pretty much treated me the same way the protagonist in this book treats Amanda (my heroine) in my fictional club. He leaves her to go do his shit and she's left all by herself. The beginning of this story was all about getting a hunky, Alpha guy to sweep Amanda off her feet. Make her feel special and desirable. And it made a helluva good Carver Family book 😀

Cynthia Sax: Is Men of Honor: Rafe part of a series and will you be writing more stories in this series?

Marteeka Karland: Yes. This is actually a spin off of my Heroes: The Carver Brothers book (available here: http://amzn.to/2lwFwlo) The Lexington brothers were so popular, I decided to make a Louisville branch of the family tree. These guys are a bit more edgy and, when they come home to Mama Carver from the first series… yeah. Not going to be pretty… 🙂
Cynthia Sax: Thank you for joining us today, Marteeka!
Marteeka Karland's Website: http://marteekakarland.com/
*****************************************************************************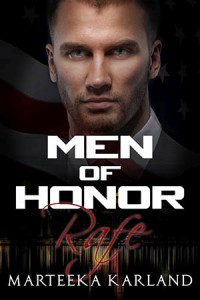 In the dangerous world of drugs, things can turn deadly in an instant…
Amanda Livingston is stuck in a rut with her, boyfriend, Scott Dosser. Knowing only that she'll never be the one to satisfy him, she doesn't suspect the true evil lurking behind his sexy smile…until it's too late.
A battle with drug lords into human trafficking…
Former Navy Seal, Rafe Carver, was trained to not miss details and something about this couple seems…off. Instincts on high alert, Rafe digs to find the truth. Which turns out to be more than even he bargained for. Rafe will stop at nothing to keep naive Amanda alive preferably tucked safely between the sheets of his bed.
Two strong wills collide…
Rafe thought the biggest danger was the cartel, little did he envision the sultry Amanda, was as hard-headed and feisty as she was sexy. Convincing her of the dangers surrounding proves most challenging of all and there isn't time for error or argument. Surviving each may be even more tricky than outmaneuvering the men after her.
Buy Now: