There has been quite a bit of talk on the writer groups about non-traditional romances. Should there be trigger warnings on books? Should these stories be in the romance category?
Dark Thoughts, my March release, is a non-traditional romance. Kralj, the hero, is a monster. He EATS his enemies. Yeah. I go there. (He's half animal so eating his enemies, I felt, was a given.) In Releasing Rage, very bad things happen to the heroine. I wrote an erotica story long ago (it is no longer available at booksellers). That story was romantic but it didn't have the romance happy ever after ending. They boinked and went their separate ways.
So I'm clearly supportive of non-traditional romances. I've also thought long and hard about whether or not we, writers, should signal to readers that our stories are non-traditional.
IMHO… the trust between writer and reader is all important. If our readers don't trust us, they won't allow themselves to escape fully into our worlds. Lack of trust in us, as story tellers, hampers their enjoyment of our stories.
We don't want that. Ever.
Trigger Warnings
I believe in warning the reader about things that might traumatize them. Spoilers, however, can also ruin the reading experience. If I had said '(This specific bad thing) happens' in Releasing Rage, it would have given away a major plot point.
It is also unnecessary.
We are writers. We have the gift of words. We can hint at a situation without telling readers everything. And our readers are highly intelligent. They will pick up on our hints. If they need more information, they'll contact us and ask for it.
For Releasing Rage, I use 'darkness' in the blurb and my blurb ends with 'Releasing Rage is a dark BBW Cyborg Romance.' Dark usually means dubious consent or non-consent.
For Dark Thoughts, I say…
"Dark Thoughts is a STAND-ALONE SciFi Romance.
The hero might be tall, dark, and scarred but don't be fooled by his appearance.
He's truly a monster.
This story is not for readers with delicate sensibilities."
Again, I don't say why he's a monster or what he does. I simply warn readers that this is non-traditional romance.
Saying 'This story is a non-traditional romance' covers a multitude of possible triggers. Cheating would be a non-traditional romance. Stepbrother-stepsister is a non-traditional romance. Master-slave relationships would be non-traditional romance.
What about 'romances' in which the hero or heroine or both die in the end?
Romances Without Romantic Happy Ever Afters Or Romantic Happy For Nows
For me, as a Romance reader and writer, Romance means a Romantic Happy Ever After or a Romantic Happy For Now. This doesn't mean everything is happy-happy, simply that the couple (or more) is in a solid happy place in their relationship at the end of the story.
One of them isn't dead. They are together. They might not have said 'I love you' but they do care for each other. One of them isn't plotting to murder the other.
But I realize some writers are questioning this definition of our genre and I respect that. We're writers. We question everything. (grins)
If this questioning is purely about sales, I'm not certain why writers would want to put non-romance books into the romance category. My cyborg romances (which are clearly romances) sell more units in the pure Science Fiction category than in the Science Fiction Romance category on Amazon. Fifty Shades Of Grey wasn't originally in the romance category (as I'm writing this, it isn't in that category) and I heard it sold fairly well. There are plenty of categories other than romance that sell well. And they are often less crowded.
But if you really wish to put a story lacking a romantic HEA/HFN in the romance category, please add a trigger warning. Well, unless you have a movie based on your book (like Jojo Moyes' Me Before You) or you're well known for killing off the hero or heroine (like Nicholas Sparks, who, to his credit, gets irritated when publishers put his books in the romance category). Then it might not be necessary.
Again, consider making that trigger warning vague.
Consider saying something like 'This emotionally-gripping romantic story features a man determined to die and a woman determined to stop him.' A Romantic story isn't a Romance. Traditional romance readers know this. A story with Romantic Elements doesn't have a traditional Romance HEA ending either. By calling your story something other than a Romance in the description, it signals to traditional romance readers that it isn't a romance.
Trigger Warnings And Sales
My stories with trigger warnings (the vague kind) have more sales than my stories without them. I think this is because a) there's a healthy market for non-traditional romance and b) the trigger warnings help the stories find the right readers for them, readers who will love the story and tell their friends about it.
I wouldn't add trigger warnings to a traditional romance. That does the exact opposite – attracting the wrong readers for the story. But I wouldn't be scared of trigger warnings either. Make them sexy. Make them intriguingly vague. Make them sell your book.
What are your thoughts on trigger warnings?
***
Subscribe To My Monthly Newsletter: http://tasteofcyn.com/2014/05/28/newsletter/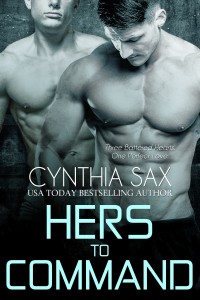 Three Battered Hearts. One Perfect Love
Ace and Thrasher share a special bond. They've never acknowledged that connection and have never fully acted on it. The Humanoid Alliance kill cyborg males like them, deeming the warriors to be defective. Now that Ace and Thrasher have escaped, they don't trust the cyborg council and their brethren to react any differently. Physical love is too risky for them to consider.
Until they meet her.
Carys is the Commander of a Rebel Battle Station. She has dedicated her lifespan to seeking vengeance against the Humanoid Alliance and the cyborgs who killed her daughter. On her battle station, she makes the rules, and if she wants to kiss, touch, and pleasure two mysterious warriors, she will. Nothing, not even enemy warships and a mass cyborg rebellion, can stop her.
In the midst of a war, enemies can become lovers and loyalties can change in a moment. Can a forbidden relationship between two cautious cyborgs and one unbending human Commander survive?
Hers To Command is Book 8 in the Cyborg Sizzle series.
Due to the number of returning characters in this story, you'll enjoy Hers To Command more if you've read the other stories first.
This is a MMF BBW Cyborg SciFi Romance.
Pre-order Now:
Amazon US: https://www.amazon.com/Hers-Command-Cyborg-Sizzle-Book-ebook/dp/B01N0I7X49/
Amazon UK: https://www.amazon.co.uk/Hers-Command-Cyborg-Sizzle-Book-ebook/dp/B01N0I7X49/
Apple/iBooks/iTunes: https://itunes.apple.com/us/book/hers-to-command/id1179869260
B&N: http://www.barnesandnoble.com/w/hers-to-command-cynthia-sax/1125247346