I sat down (virtually) with Cara Bristol for a short interview. Her latest release is Body Talk, a compilation of sexy excerpts from multiple erotic romance subgenres!

Cynthia Sax: What makes your heroes sexy?
Cara Bristol: They care for the heroine. Even in the BDSM romances, the hero is interested in her as a person. While a character may be conflicted about the relationship, he respects her as well as desires her. I create heroes who are worthy of the heroine's love—although there may trauma in their past that makes them believe they're not worthy of love. That's something they have to overcome in the story.
Cynthia Sax: Where did you get the idea for Body Talk?
Cara Bristol: I've been a lifelong romance reader. As a teenager I used to reread the sexy parts over and over. I thought why not produce a book that was all sexy parts? Body Talk contains full chapter excerpts of eleven of my sexiest sex scenes! My current readers can reread some of their favorite passages—and readers new to me can be introduced to a sampling of my work. All for only 99 cents (or free with Kindle Unlimited). They'll be introduced to some of my sci-fi romance, romantic comedy, paranormal, and BDSM (light).

Cynthia Sax: Where do your stories start?
Cara Bristol: Each excerpt begins with a lead-in to a sexy scene. In some cases, the characters intend to have sex; in others, but in others, they haven't realized it themselves yet. What I'm trying to say is that it's not a wham-bam-thank-you-ma'am. There is pursuit and seduction. Love and affection. Readers will get to know the characters, their motivations and bit of their stories. Each scene is complete; there isn't a cliffhanger.

Cynthia Sax: What advice would you give new writers?

Cara Bristol: Don't give up. Pace yourself. Realize that there is no sprint to success. It's a marathon you have to run every day. Being an author is my dream job, but it is work. If you don't love writing, you probably won't have the discipline to see it through to success.
Cynthia Sax: Thank you, Cara Bristol, for joining us today!
Cara Bristol's Website: http://www.carabristol.com
*****************************************************************************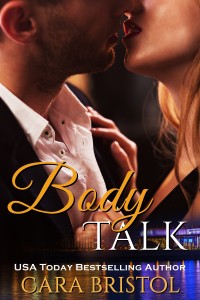 Remember when your favorite paperback books used to naturally open to the scenes you'd read over and over, the ones that made you laugh, tugged your heart or got you hot and bothered? In Body Talk, USA Today bestselling author Cara Bristol has compiled full-chapter excerpts of the sexiest scenes from her most popular and favorite erotic romances. These story excerpts will tug at your heart, captivate your imagination, and stir your senses. You'll visit the familiar…and escape to the unexpected in a variety of subgenres including: contemporary romance, BDSM/spanking romance, science fiction romance, romantic comedy, and even a historical romance selection.
Buy Now: