Woot! Cara's Book Boudoir has reviewed The Good Assistant and she loved it, giving it 5 stars!
Here's a snippet…
"When it comes to John, well he is full Alpha male! He is wondrously protective of Trella and needs to know where she is at all times, not only because he is a control freak, but because he is scared for her protection and well-being…seriously, I need to find me a man like this!"
Read the full review here – http://www.carasbookboudoir.com/2016/09/the-good-assistant-by-cynthia-sax-review.html?m=1
***
Subscribe To My Release Day Newsletter: http://tasteofcyn.com/2014/05/28/newsletter/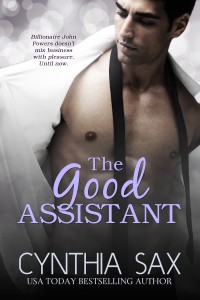 My boss, John Powers, represents everything I want in a man. He's the CEO and founder of a powerful company, that position having made him a billionaire, striking in an I-survived-a-bar-brawl sort of way, and too clever for my sanity.
I'm his assistant and desperately in love with him. I'd willingly serve him both in the boardroom and in the bedroom.
There's one problem.
He doesn't mix business with pleasure.
Ever.
Buy your copy today!
Amazon: http://www.amazon.com/Good-Assistant-City-Sizzle-Book-ebook/dp/B013O33EKM
ARe: https://www.allromanceebooks.com/product-thegoodassistant-1870006-340.html
B&N: http://www.barnesandnoble.com/w/the-good-assistant-cynthia-sax/1122572951