Many reading buddies have asked me what is next for the cyborgs.
Oh boy, what isn't next?
Jumping Barrel – December 2016
Barrel's short story will be releasing for FREE in December. Because it is free, there will be no pre-orders. I'll send newsletter buddies a newsletter when it is available. I'll also post the release information here on my blog and on Facebook.
Jumping Barrel is the same length as Being Green, last year's free story, because I know December is very busy for a lot of folks. It is also lighter in tone.

Theirs To Command – February 2017
The next longer cyborg story is Theirs To Command. This is Ace, Thrasher and the Rebel Commander's story. Yes, it is a ménage (MMF to be exact).
This story marks the beginning of the mass liberation of the cyborgs. Shit is going down, folks. Expect some action in Theirs To Command.
Ghost's Story – May 2017
Remember the C Model cyborg who saved Joan? That's Ghost. He's still alive…barely, and he has definitely earned his own story. (He's mentioned in Theirs To Command also).
Vector's Story – August 2017
Vector, the cyborg Captain of the Freedom, will finally find love…if he allows his female on his precious ship. (grins)
Zip's Story – December 2017
Zip has seen his friends Green and Barrel find love. It will be his turn in December. This will be another FREE short story. His female is hilarious.
Now, you might be wondering… what about Kralj, the mysterious male from Chasing Mayhem? Will he receive a story?
The Refuge Series
As Kralj isn't a cyborg, I can't put his story in the Cyborg Sizzle series. His will be the first story in a new series. The Refuge Series will only be four stories long.
Dark Thoughts –March 2017
This is Kralj's story. It has the word 'Dark' in its title for a reason. The Refuge is a violent, primal, highly sexual place. The inhabitants are the beings other settlements expelled. Kralj is their King.
There will be three other stories, release dates unknown (I want to release them all in 2017 but that might be unrealistic).
Dark Sky is the winged male's story
Dark Strength is the giant green gatekeeper's story
Dark Fire is the silver Dracheon warrior's story
That's what I have planned, thus far, for the rest of 2016 and all of 2017. I'm super excited about these stories!
***
Subscribe To My Release Day Newsletter: http://tasteofcyn.com/2014/05/28/newsletter/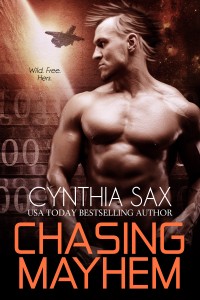 Wild. Free. Hers.
Mayhem has spent his lengthy lifespan obeying the Humanoid Alliance's rules. Finally free from their cruel control, the cyborg warrior plans to cause chaos. He infiltrates a remote settlement, provokes the savage locals until they want him dead, and allows himself to be captured by the sexiest little Retriever he has ever laid his mechanically-enhanced eyes on.
Imee's sole mission in life is to keep her family alive. To do this, she must hunt rebels, returning them to the Humanoid Alliance's evil clutches where they will be executed. She doesn't allow herself to feel anything for her targets…until she meets a tall, muscular cyborg with wild hair and even wilder eyes.
With his sure hands, laughing lips and erotic holds, Mayhem makes Imee's body sizzle and her resistance melt. Their love is doomed. She must deliver the warrior to his death or she'll place her family's safety at risk. But she can't resist him.
Imee soon discovers that Mayhem, life, and love are never predictable.
Chasing Mayhem is Book 6 in the Cyborg Sizzle series and is a STANDALONE story.
It is also a BBW Cyborg SciFi Romance.
Buy Now:
Amazon US: https://www.amazon.com/Chasing-Mayhem-Cyborg-Sizzle-Book-ebook/dp/B01IRPO9WY#nav-subnav
Amazon UK: https://www.amazon.co.uk/Chasing-Mayhem-Cyborg-Sizzle-Book-ebook/dp/B01IRPO9WY/
Apple/iBooks/iTunes: https://itunes.apple.com/us/book/chasing-mayhem/id1136333685
ARe: https://www.allromanceebooks.com/product-chasingmayhem-2077430-340.html
B&N: http://www.barnesandnoble.com/w/chasing-mayhem-cynthia-sax/1124139998
Kobo: https://store.kobobooks.com/en-us/ebook/chasing-mayhem