One of the many fun things about a cyborg series is we get to see the heroines through the cyborgs' eyes. The warriors bring their unique views of the world into the descriptions of the females they're destined to love.
Here is a snippet from Chasing Mayhem…
***
She peeked out of her hiding place and Mayhem sucked in his breath.
His female was stunning, more beautiful than anyone or anything he'd ever seen. She had uniquely shaped brown eyes, her eyelids lacking the useless crease his had. Her skin was golden and glistened with a layer of sweat, her thermoregulation system not as efficient as a cyborg's. Her hair was as straight as a thrown spear and as black as open space. A long scar carved her left cheek in two. RET56927 was inked under her right eye.
She wasn't a cyborg. He'd be able to detect that.
But she had been the property of the Humanoid Alliance. His scan revealed one of their tracking devices in her right wrist.
***
Mayhem, being a cyborg, sees even the female he'll love in terms of functionality and efficiency. Eyelid creases have no functionality so he deems Imee's eyes better designed. When he describes her features, he compares them to things he knows—weapons and space travel.
Imee is a muscular female. She's a Retriever, a bounty hunter for the Humanoid Alliance, and is super fit. But Mayhem still perceives her as being soft.
Why?
Because cyborgs have metal frames. They're hard…all over (grins). A human's form would, of course, be much softer, much more giving.
Mayhem also views Imee as being tiny, which makes sense because cyborgs are HUGE. All humans, male or female, would be smaller than they are. (I find that REALLY sexy. There's nothing as thrilling to me as a hero who can pick up a heroine.)
Every cyborg is different and brings a unique perspective to his story. Mayhem values different traits and characteristics than Rage or Crash or Barrel (his free short story will be releasing in December).
This makes every story and every heroine's description exciting.
***
Subscribe To My Release Day Newsletter: http://tasteofcyn.com/2014/05/28/newsletter/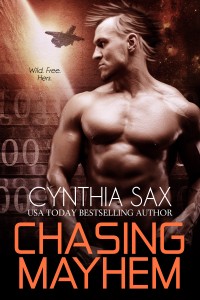 Wild. Free. Hers.
Mayhem has spent his lengthy lifespan obeying the Humanoid Alliance's rules. Finally free from their cruel control, the cyborg warrior plans to cause chaos. He infiltrates a remote settlement, provokes the savage locals until they want him dead, and allows himself to be captured by the sexiest little Retriever he has ever laid his mechanically-enhanced eyes on.
Imee's sole mission in life is to keep her family alive. To do this, she must hunt rebels, returning them to the Humanoid Alliance's evil clutches where they will be executed. She doesn't allow herself to feel anything for her targets…until she meets a tall, muscular cyborg with wild hair and even wilder eyes.
With his sure hands, laughing lips and erotic holds, Mayhem makes Imee's body sizzle and her resistance melt. Their love is doomed. She must deliver the warrior to his death or she'll place her family's safety at risk. But she can't resist him.
Imee soon discovers that Mayhem, life, and love are never predictable.
Chasing Mayhem is Book 6 in the Cyborg Sizzle series and is a STANDALONE story.
It is also a BBW Cyborg SciFi Romance.
Pre-order Now:
Amazon US: https://www.amazon.com/Chasing-Mayhem-Cyborg-Sizzle-Book-ebook/dp/B01IRPO9WY#nav-subnav
Amazon UK: https://www.amazon.co.uk/Chasing-Mayhem-Cyborg-Sizzle-Book-ebook/dp/B01IRPO9WY/
ARe: https://www.allromanceebooks.com/product-chasingmayhem-2077430-340.html
B&N: http://www.barnesandnoble.com/w/chasing-mayhem-cynthia-sax/1124139998
Kobo: https://store.kobobooks.com/en-us/ebook/chasing-mayhem