Today, I was working on a sex scene for Jumping Barrel, my December freebie short story, and I also received a… different… review for Speed Demon, a M/M short story I wrote years ago that has been re-released by my publisher as part of the multi-author series celebration.
I figured it would be a great time to talk about how I write sex scenes. If it works for you, great. I'm happy I helped. If it doesn't work for you, try another writer's method. Experiment until you find one that works.
In Speed Demon, there are fun times with a police baton. Yes, ouch. The reviewer somehow seemed to think I equated being gay with painful sex.
Let's say I had this (extremely bizarre) perception. Writing sex scenes based on stereotypes and generalizations about groups of beings is lazy writing. It is also boring reading. And it usually doesn't add anything to the story. It doesn't make the story unique or special.
I prefer to write sexy times as character-driven scenes. These are two very unique individuals, with their own histories, their own personalities, their own goals. How would these two characters have sex?
Sarge is a genetically enhanced supercop. He's in love with Nero, his partner, a blood demon, the most violent kind of demon. These two males are extremely forceful and very competitive. They run into dangerous situations, not away from them. They consider scars to be badges of honor and would display them proudly.
Sex between these two males would be very rough. They're not human. Painful for us wouldn't be considered painful for them. They also tend to push each other and not always (grins – not ever) in a safe way.
Sex scenes should also have a story reason for being. They should push the action forward or move a character along his character arc. If a scene, ANY scene, can be taken out of a story and the story doesn't change, that scene should be deleted.
In Speed Demon, Sarge is deep in denial about his sexuality. He loves Nero but he's been taught that gay men are weak men. He thinks acknowledging his sexuality will make him a wimp.
Having fun times with a police baton would likely kill a human male or, at the very least, send him to the hospital. When Nero challenges him to do this, he is telling Sarge he can be gay AND still be strong. He doesn't have to choose. He can be both.
This is THE most important scene in the entire story. If Sarge was human or if he was a gentler male, I would have written the scene in a very different way. But this works for him.
Being true to my characters DOES create challenges. When I write Ace, Thrasher and the rebel Commander's story in the cyborg series, there won't be any anal sex scenes. The cyborgs equate that type of sex with torture. They would never torture a being they loved. They'd find other ways to enjoy themselves.
But being true to my characters also means sex scenes are interesting, both to write and to read. That's worth the challenge.
Writers, how do you write your sex scenes? Readers, what is the best sex scene you've ever read?
***
Subscribe To My Release Day Newsletter: http://tasteofcyn.com/2014/05/28/newsletter/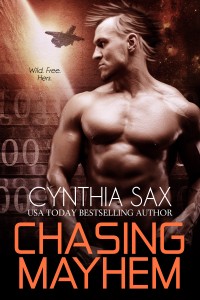 Wild. Free. Hers.
Mayhem has spent his lengthy lifespan obeying the Humanoid Alliance's rules. Finally free from their cruel control, the cyborg warrior plans to cause chaos. He infiltrates a remote settlement, provokes the savage locals until they want him dead, and allows himself to be captured by the sexiest little Retriever he has ever laid his mechanically-enhanced eyes on.
Imee's sole mission in life is to keep her family alive. To do this, she must hunt rebels, returning them to the Humanoid Alliance's evil clutches where they will be executed. She doesn't allow herself to feel anything for her targets…until she meets a tall, muscular cyborg with wild hair and even wilder eyes.
With his sure hands, laughing lips and erotic holds, Mayhem makes Imee's body sizzle and her resistance melt. Their love is doomed. She must deliver the warrior to his death or she'll place her family's safety at risk. But she can't resist him.
Imee soon discovers that Mayhem, life, and love are never predictable.
Chasing Mayhem is Book 6 in the Cyborg Sizzle series and is a STANDALONE story.
It is also a BBW Cyborg SciFi Romance.
Pre-order Now:
Amazon US: https://www.amazon.com/Chasing-Mayhem-Cyborg-Sizzle-Book-ebook/dp/B01IRPO9WY#nav-subnav
Amazon UK: https://www.amazon.co.uk/Chasing-Mayhem-Cyborg-Sizzle-Book-ebook/dp/B01IRPO9WY/
ARe: https://www.allromanceebooks.com/product-chasingmayhem-2077430-340.html
B&N: http://www.barnesandnoble.com/w/chasing-mayhem-cynthia-sax/1124139998
Kobo: https://store.kobobooks.com/en-us/ebook/chasing-mayhem