Woot! Defying Death, along with fabulous SciFi Romances from some other writing buddies (happy dances with them), has been nominated for Best Syfy/Fantasy Romance (thus far) of 2016 (they clearly haven't read Chasing Mayhem yet – grins – That story releases in September).
You can vote here: https://www.facebook.com/events/205295286534025/permalink/205299046533649/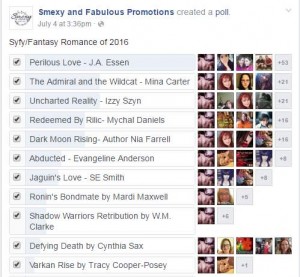 ***
Subscribe To My Release Day Newsletter: http://tasteofcyn.com/2014/05/28/newsletter/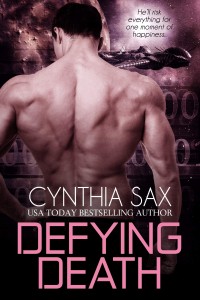 Defying Death
He'll risk it all for one moment of happiness.
Cyborgs don't show emotion. Death learned that lesson early in his long lifespan. To survive, he hides his fierce passions behind a stoic wall. He calls no warrior friend. He never admits to caring for any being.
Even the human female he's destined to love.
Tifara is Death's obsession, his sole opportunity for happiness, to express the all-consuming passion burning brightly inside him. He'll do anything to obtain the curvaceous medic: defy a direct order, abduct Tifara from her battle station, and wage war on his fellow cyborgs.
To earn her love, he'll have to risk much, much more.
Amazon US: http://www.amazon.com/Defying-Death-Cyborg-Sizzle-Book-ebook/dp/B01D6OUQS2/
Amazon UK: http://www.amazon.co.uk/Defying-Death-Cyborg-Sizzle-Book-ebook/dp/B01D6OUQS2/
ARe: https://www.allromanceebooks.com/product-defyingdeath-2001671-147.html
B&N: http://www.barnesandnoble.com/w/defying-death-cynthia-sax/1123562659
Kobo: https://store.kobobooks.com/en-us/ebook/defying-death-2