Some reading buddies have asked who will make an appearance in Defying Death. Death is, of course, the hero. Tifara, Safyre's medic buddy, is the heroine. Also appearing are Crash, Safyre, Menace, Mayhem, Ace and Thrasher.
Defying Death can be read on its own. However, it will deal with what happened in Crash And Burn. I found this story really helped me sort through those emotions.
What occurred on Tau Ceti has also changed the cyborgs' focus. Two compatible females (Joan and Mira) might be abnormalities but four shows them that they ALL might have females.
These lonely warriors could have females waiting for them, needing their protection, and this gives them a sense of urgency. They no longer wish merely to escape. They wish to safeguard their females.
As Death observes
"They weren't concerned for themselves. Cyborgs were manufactured to fight and eventually to die in battle. They'd long resigned themselves to that fate.
But to leave their females unprotected was unthinkable."
As we all know, NO ONE threatens a cyborg's female and continues to breathe. (grins)
Angry super protective cyborgs aren't the only threat to the Humanoid Alliance. Humans aren't the sole beings in the universe. There are other species, some of them much more powerful. In the past, they've minded their own business, thinking the Humanoid Alliance's actions to be none of their concerns.
The Humanoid Alliance has hidden most of their crimes but there's no hiding what happened on Tau Ceti. The entire universe now knows what Humanoid Alliance is willing to do and many species won't tolerate that type of threat to themselves or to others.
Yep, the Humanoid Alliance is in deep, deep shit.
***
Subscribe To My Release Day Newsletter: http://tasteofcyn.com/2014/05/28/newsletter/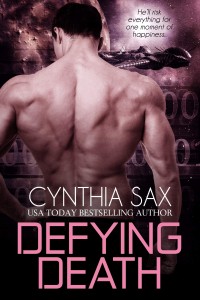 Defying Death
He'll risk it all for one moment of happiness.
Cyborgs don't show emotion. Death learned that lesson early in his long lifespan. To survive, he hides his fierce passions behind a stoic wall. He calls no warrior friend. He never admits to caring for any being.
Even the human female he's destined to love.
Tifara is Death's obsession, his sole opportunity for happiness, to express the all-consuming passion burning brightly inside him. He'll do anything to obtain the curvaceous medic: defy a direct order, abduct Tifara from her battle station, and wage war on his fellow cyborgs.
To earn her love, he'll have to risk much, much more.
Amazon US: http://www.amazon.com/Defying-Death-Cyborg-Sizzle-Book-ebook/dp/B01D6OUQS2/
Amazon UK: http://www.amazon.co.uk/Defying-Death-Cyborg-Sizzle-Book-ebook/dp/B01D6OUQS2/
ARe: https://www.allromanceebooks.com/product-defyingdeath-2001671-147.html
B&N: http://www.barnesandnoble.com/w/defying-death-cynthia-sax/1123562659
Kobo: https://store.kobobooks.com/en-us/ebook/defying-death-2