Here is the round up of the SciFi stories that inspired me this week
Star Wars Posters And A Fun Q&A With JJ Abrams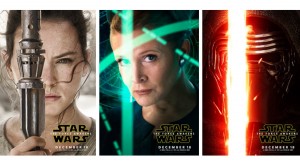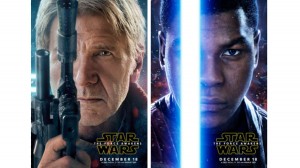 Famous folks bombarded Star Wars 7: The Force Awakens's director JJ Abrams with questions in an amusing Q&A.
Even George Lucas participated.
""JJ, what happened to Darth Vader's grandchildren?" Lucas asked.
"Oh, George, this is great. You tell me man, you made all this sh** up.""
Close Calls In Space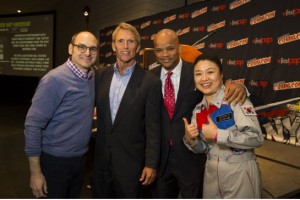 Do you need an exciting plot twist in your new SciFi novel?
There's a great new series called Secret Space Escapes, which highlights near misses on space missions.
Astronaut Jerry Linenger shares
"Whenever you're operating on the edge of human ability, you're going to have close calls. We've had quite a few. But because we usually come out of them successfully people say that it's fine when it's actually quite hairy."
Terraforming Mars
Thinking about setting a story on Mars?
Mars' atmosphere will make terraforming (turning Mars into an Earth-like planet) even more difficult.
Bruce Jakosky, principal investigator of NASA's MAVEN mission, shares
"It's [atmospheric CO2] not there. It's been removed from the solar system entirely, so it's not possible to bring it back."
New Star Trek Show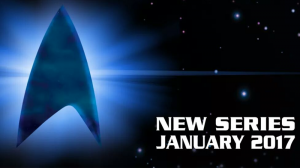 As of this date, we know very little except there will be a new Star Trek show in 2017.
io9 had some fun musing about what they'd like to see.
Inspiring Photos
Wired shared some truly inspiring photos from The NASA Photo Archives.
Including this photo of dust surrounding V838 Monocerotis, a red supergiant.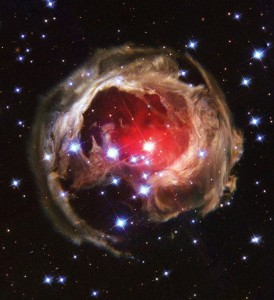 What inspired you this week?
***
Subscribe To My Release Day Newsletter: http://tasteofcyn.com/2014/05/28/newsletter/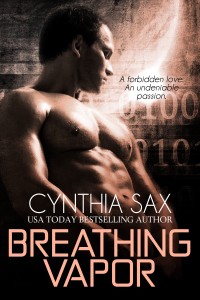 Vapor is the most advanced cyborg the Humanoid Alliance has ever developed. He's a finely honed weapon, a warrior without parallel, half man and half machine. No lock can contain him. No being can stop him. Whatever he wants, he takes.
He wants Mira Breazeal, the Designer's daughter.
She's his one temptation, his sexy target. Vapor shouldn't crave her caresses, steal her kisses, make her scream with ecstasy. The cyborgs want her dead and they would question his loyalty if he didn't kill her. The humans would shoot him on sight if he dared to touch her.
Their love is forbidden. Their desire could be lethal. One human and one cyborg will risk everything for a moment of passion.
Pre-order Now:
Amazon US: http://www.amazon.com/Breathing-Vapor-Cyborg-Sizzle-Book-ebook/dp/B015UN87JC/
Amazon UK: http://www.amazon.co.uk/Breathing-Vapor-Cyborg-Sizzle-Book-ebook/dp/B015UN87JC/
ARe: https://www.allromanceebooks.com/product-breathingvapor-1897324-340.html
B&N: http://www.barnesandnoble.com/w/breathing-vapor-cynthia-sax/1122718203
Kobo: https://store.kobobooks.com/en-ca/ebook/breathing-vapor