I sat down (virtually) with Aurora Russell for a short interview. Aurora Russell's latest release is Bear Your Fangs, a sexy paranormal!

Cynthia Sax: What makes Randulf so freakin' sexy?
Aurora Russell: First, I know I'm biased, but I think that Randulf is particularly sexy because he's a tall, strong Viking werebear vampire. Beyond that, though, he's honorable, compassionate, and cares deeply. So, he's a warrior who's delicious to look at and does a great job protecting Eva, but he's soft on the inside. While he hopes they can be mates, and he wants to do everything he can to make that happen, including a good amount of scorching love-making, what he wants above everything else is Eva's safety and happiness. The combination is pretty irresistible.
Cynthia Sax: What is your favorite line from Bear Your Fangs?
Aurora Russell: It's too hard to choose just one favorite line, but I think one of my favorite exchanges between Eva and Randulf is this one, which is actually relatively early in the story:
"Is it always like it was between us?" Eva asked. "I mean, the pleasure? Is it always that good when you, um, drink from someone?"
Randulf groaned and shuddered, pulling her closer again, and leaning over so she could feel the warmth of his breath on her ear and in her hair. "It has never been even a fraction of that good with anyone else, little Eva," he whispered in her ear, and Eva trembled, feeling his voice like a thousand tiny fingers brushing and caressing her skin."
I think it shows the depth of passion and emotion between them, and also Randulf's honesty. He's old-fashioned, and you can tell that in his phrasing, but he isn't afraid to express how much their first time making love to each other meant to him. And, of course, Eva is blown away by how good everything is with him, too. I think this really captures the immediate intimacy and passion that they have – with explosive chemistry!

Cynthia Sax: How does Bear Your Fangs start?
Aurora Russell: Bear Your Fangs starts with Eva, alone in a cabin in the remote woods of Maine, hearing a loud noise, which turns out to be an enormous and crazed werewolf who attacks her. Then, Randulf charges out of the forest, in his bear form, and saves her. It's a very exciting opening scene, chock full of suspense, danger, and a hero who is then wounded and needs help after the battle. The setting is definitely important because two of the main characters are part of a shapeshifting vampire race called the melange, so they are most comfortable in a place that isn't populated. The dark and dangerous beauty of the forest is something that continues to be an important theme in the rest of the story.

Cynthia Sax: Is Bear Your Fangs part of a series and will you be writing more stories in this series?

Aurora Russell: Bear Your Fangs is the first in the series of the Melange. The second book Ursa Major Hottie, should be completed soon. There will be at least four books in this series, and possibly more. Definitely be on the lookout for more wickedly sexy shapeshifting vampire heroes in the near future!
Thank you, Aurora Russell, for joining us today!
Aurora Russell's Website: https://aurorarussellauthor.wordpress.com/
*****************************************************************************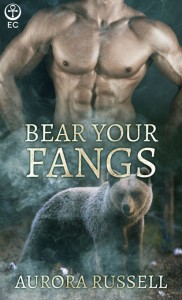 When Eva rents a cabin in the woods to reassess her life after a painful breakup, she hears rumors of disappearing hikers. Despite the stories, she resolves to stay awhile. Until she sees a crazed-looking giant wolf outside her window—with a hiker's leg in his mouth. Things get even stranger when an enormous bear fights off the wolf—and then turns into a gorgeous man.
Randulf is a shapeshifting vampire charged with tracking down the rogue werewolf and executing him before he can kill more humans. But he's wounded in the fight, and only two things can help him heal quickly enough to save both him and Eva from a second attack: sex and human blood. Eva is happy to oblige—over and over again.
Reader Advisory: This story has graphic sexual language and scenes—no closed bedroom doors (or other rooms) here!
Buy Now:
On Amazon.com: http://www.amazon.com/Bear-Your-Fangs-Aurora-Russell-ebook/dp/B01593TR8S
On Kobo: https://store.kobobooks.com/en-US/ebook/bear-your-fangs
On Ellora's Cave: https://www.ellorascave.com/product/bear-your-fangs/