I sat down (virtually) with my good friend Tina Donahue for a short interview. Tina Donahue's latest release is Surrendering to the Beast, an erotic paranormal and romantic comedy.

Cynthia Sax: What makes Daemon so freakin' sexy?
Tina Donahue: Daemon may be a bad boy satyr, but he's all heart, especially when it comes to Heather. He loves that sweet fairy like nobody's business. No matter how much he's hurting carnally, her needs come first. What a guy. While she's taming him, he releases her inner bad girl. They're the perfect paranormal couple, especially when Mistress Jin, or MJ, enters the picture and heats things up even more.
Cynthia Sax: Why are you super excited about Surrendering to the Beast?
Tina Donahue: Surrendering to the Beast is book two of my Taming the Beast series. I absolutely love writing these characters. I have a very irreverent sense of humor and have always liked romcom with a dash of the erotic. The series takes place at From Crud to Stud, a makeover service for supernatural beings. The characters include a good fairy, a reformed demon, a voodoo priestess, a god, Satan (of course), vamps, weres, and a half witch/half mortal who owns the joint. I've had so much fun creating these stories – they're sexy and playful, but oh-so romantic.

Cynthia Sax: What is your favorite line from Surrendering to the Beast?
Tina Donahue: A little background before I provide the line. Daemon, a satyr, comes to the makeover service to get rid of his horns, tail, and hooves. He wants to look totally human and boogie with mortal babes, until he meets Heather. After the makeover – OMG, what a bad boy. Since he lived in a forest all his life, clothes don't mean much to him. Heather, a good fairy, takes him to her apartment since he doesn't have anywhere else to stay. She calls for a pizza delivery and warns a very nude Daemon to cover his family jewels when the guy shows up.
Clueless, Daemon asks, ""Is his a lot smaller than mine? Will I make him feel bad
if he sees mine?"

Cynthia Sax: Where did you get the idea for Surrendering to the Beast?

Tina Donahue: It just happened. I had finished one series and wanted to try another. For some reason, I started thinking about a makeover service for supernatural beings. In many stories, vamps, weres, witches, whatever, have awesome powers and no problems because of them. I started thinking – what if the powers were giving them problems living in the world with mortals? What if they wanted to intermingle more easily with mortals? For example: what if a vamp wanted to date a mortal babe without sucking her dry? Thus From Crud to Stud was born. Weres get moonlight therapy so they don't shift during a full moon. Vamps get therapy that curbs their bloodsucking ways. The more I thought about it, the more I saw it as a romantic comedy.
Thank you, Tina Donahue, for joining us today!
Tina Donahue's Website: http://www.tinadonahue.com/
Tina has a contest!
Enter this awesome Rafflecopter giveaway
*****************************************************************************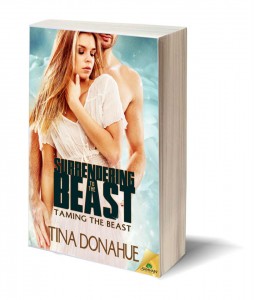 When she's good, she's very good. But when he's bad, she's better.
Taming the Beast, Book 2
As a good fairy, Heather is empathetic and chaste to a fault. No bad language, no dirty thoughts, flirting and no sex. But when a satyr named Daemon steps up to her reception desk at From Crud to Stud, she finds herself on the fast track to exquisite corruption.
Daemon is the total bad-boy package with a kiss straight from the dark side. Though he's here for a supernatural makeover, Heather can't imagine why any red-blooded woman would want him to change.
A disciple of the god of wine, Daemon has had his share of good times. But sex has never been this good. Heather brings out a new side of him, a side that makes him want to protect as well as pillage.
But Daemon needs a little creative backup to help set his fairy's naughtiness free. And that means bringing in Mistress Jin. Under the genie's tutelage and Daemon's shameless lust, Heather is about to learn what it means to let loose.
Warning: Not your typical bedtime story. May lead to indecent behavior, a taste for voyeurism, discipline, bondage, m/f, m/f/f and f/f action, which will result in screaming orgasms. Proceed with caution.
Buy Now:
Samhain: https://goo.gl/y3txKC