In One Night With My Billionaire Master, half of Toronto's business community believes that Arianna is having sex with billionaire financier and all around hottie, Logan Ross.
They aren't having sex. Arianna is still a virgin. Logan protects her as best as he can and he pours naughty ideas into her ear but he doesn't pressure her. He allows her to decide when they take this step.
Arianna starts to wonder why she's resisting. Everyone (except for her father – and he's certainly a key factor) assumes they've done the deed so why not do it?
When I first started writing, my business buddies assumed I sat around in my pajamas all day. I didn't. I took a shower as soon as I woke up and dressed in business casual clothes (as all I had were these clothes and suits, being the total business babe that I was).
Then I started thinking… If everyone assumes I sit around in my pjs, maybe I should sit around in my pjs. I tried it and I liked it. Pjs are dang comfortable! And friends aren't shocked when they find me wearing them at 2 in the afternoon. They expect me to be dressed like that.
Is there something that everyone incorrectly assumes that you do? Have you considered doing this one thing?
***
Subscribe To My Release Day Newsletter: http://tasteofcyn.com/2014/05/28/newsletter/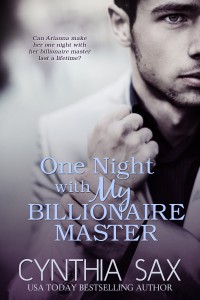 Note: If you purchased Mastered 2, you already have this story.
One night. No one must know.
This is the text I sent Logan Ross this morning. The billionaire financier is my father's number one nemesis and has been pursuing me for months. He wants to own me, completely, promising exquisite pleasure balanced by equally intense pain, vowing to dominate me, to show me wicked things a virgin like myself shouldn't be interested in.
But I am extremely interested, and I'll risk everything—my job, my family, my future—to experience one night of total submission with this powerful Dom.
Will one night be enough for both of us?
Buy Links:
Amazon: http://www.amazon.com/Night-Billionaire-Master-City-Sizzle-ebook/dp/B00YDGYXBO
ARe: https://www.allromanceebooks.com/product-onenightwithmybillionairemaster-1846744-147.html
B&N: http://www.barnesandnoble.com/w/one-night-with-my-billionaire-master-cynthia-sax/1122455637