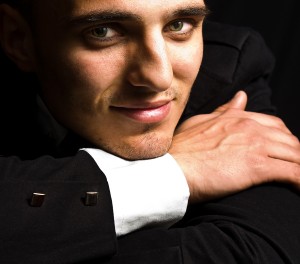 Logan Ross, the hero of One Night With My Billionaire Master, is a financier. If a company needs money, he supplies it… for a price. He also buys shares in undervalued companies he wishes to eventually control.
A venture capitalist, in contrast, normally focuses on newer and growing companies. Both take risks on companies that banks and other institutions wouldn't. But the money receiving companies or shareholders always have a choice whether or not to accept the financing. There are plenty of financiers and venture capitalists and other sources of financing to choose from (which makes the actions of certain characters in One Night With My Billionaire Master even more despicable).
I have a weakness for hunky money men. I've worked for and with several venture capitalists and financiers. Some were wonderful, definitely hero material. Some weren't.
One venture capitalist changed my life forever. Being a business babe, I spent quite a bit of time on the business forums, sharing knowledge with other business folks. I've made quite a few buddies over the years. One of these buddies was JS, a young venture capitalist who made his seed money (his start out money) in technology.
I was one of the few women on the male-dominated forums. JS thought I had some great experience and knowledge. He also was a big supporter of seeing more women start and run businesses.
JS wanted me to blog on business. I was scared. One of my female buddies had run an up and coming business blog. A woman-hating male reader had tracked her down and almost killed her (hurting her in all of the ways a man can hurt a woman). I didn't want that to happen to me.
So JS set up a blog and allowed me to write anonymously for him. I wrote a blog post every day for several years until he died (of cancer while he was in his early 30's). Then I set up my own blog (using what he taught me about remaining anonymous) and have been blogging daily about business ever since then.
Whenever I write about a venture capitalist or financier, I think about JS and how generous and supportive he was. I think Logan Ross, the hero of One Night With My Billionaire Master, and JS would have been good friends.
***
Subscribe To My Release Day Newsletter: http://tasteofcyn.com/2014/05/28/newsletter/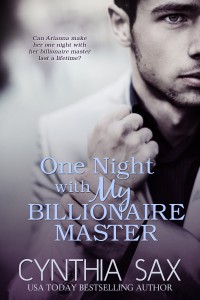 Note: If you purchased Mastered 2, you already have this story.
One night. No one must know.
This is the text I sent Logan Ross this morning. The billionaire financier is my father's number one nemesis and has been pursuing me for months. He wants to own me, completely, promising exquisite pleasure balanced by equally intense pain, vowing to dominate me, to show me wicked things a virgin like myself shouldn't be interested in.
But I am extremely interested, and I'll risk everything—my job, my family, my future—to experience one night of total submission with this powerful Dom.
Will one night be enough for both of us?
Buy Links:
Amazon: http://www.amazon.com/Night-Billionaire-Master-City-Sizzle-ebook/dp/B00YDGYXBO
ARe: https://www.allromanceebooks.com/product-onenightwithmybillionairemaster-1846744-147.html
B&N: http://www.barnesandnoble.com/w/one-night-with-my-billionaire-master-cynthia-sax/1122455637