I sat down (virtually) with Izzy Szyn for a short interview. Izzy Szyn's most recent release is The Anniversary Present: The Gift of Love, a Contemporary menage.

Cynthia Sax: What do you love about writing erotic romance?
Izzy Szyn: I have always been a fan of Erotic Romance, especially ménages. Most people that know me are not surprised when they find out what I have written so far. I think that as long as love involves consenting adults it shouldn't matter who your life partner or partners are.
Cynthia Sax: What one piece of advice would you give new writers?
Izzy Szyn: Never say never. As long as I have been stalking romance writers the one question I was always asked is when was I going to write? I had been in denial for a long time. For as long as I can remember I had stuff running in my head. But I sort of pushed them into the backburner. Mostly because I didn't think anyone would take me seriously.
I have moderated chats for a long time. One night after a chat, my friend Iris Pross dared me to write. She said she bet that I could write better than some of the ideas being thrown around in the chatroom and that is how Izzy was born.

Cynthia Sax: Where did you get the idea for The Anniversary Present?
Izzy Szyn: I always get my ideas at about 2 sometimes 3am in the morning. Makes it really inconvenient when I am trying to sleep and have to be at work in the morning.
But literally the characters woke me up with their story. At my job I have Fridays and Saturdays off, plus half of Thursday. I took that whole Thursday off and wrote their story. I literally wrote it in two days. Granted it was a short, but it was the most I had written in a two day period so far.

Cynthia Sax: Is The Anniversary Present part of a series and will you be writing more stories in this series?

Izzy Szyn: It wasn't supposed to be a series. It was supposed to be a one-time thing. But there is a certain character that people have taken a strong dislike to and want that person to get their comeuppance. I have received PM messages on Facebook telling me that the person needed to be smacked. So maybe one or two more?
Thank you, Izzy Szyn, for joining us today!
Izzy Szyn's Website: http://izzyszyn.weebly.com/
*****************************************************************************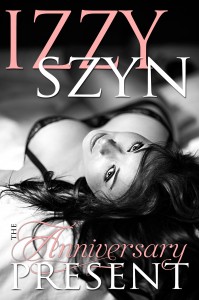 For several months Carly Adams has worked at Bennett Services. She loves her job but rumor has it that the more popular assistants do more than file, or errands. When Carly gets the opportunity step in for someone at work, she meets Parker and Amber. They need someone to assist them for the upcoming game convention in Las Vegas.
But this is also their anniversary and Parker always gets Amber what she wants for their anniversary. This year her present is Carly.
Buy Now: http://www.amazon.com/Anniversary-Present-Gift-Love-ebook/dp/B00WNX06LU/