I sat down (virtually) with Allie Ritch for a short interview. Allie Ritch's latest release is Vampire Territory 1: Drinking Partners, a Paranormal featuring sexy vampires.

Cynthia Sax: What makes Lucas so deliciously lickable?
Allie Ritch: Lucas Thane is a master vampire who wears power like a second skin. He's ruthless and cunning, but not without honor, and he has picked up some serious skills in the bedroom over the decades. Lucas is also devilishly handsome with raven hair and midnight-blue eyes. The woman in Alex appreciates when he's tender or protective, while the vampire in her is attracted to his strength and cunning.
Cynthia Sax: What excites you about Drinking Partners?
Allie Ritch: I had so much fun writing this book. For starters, I've been a fan of vampire romance for as long as I can remember, so I was super excited to write a novel in this genre. I made sure each of the characters is his/her own individual, there's a ton of action (sword fights, gun play, explosions), and the love scenes are scorching hot. I feel like the urban setting gives this book an edge, while creating an alternative history gave me room to play. There was no part of this book I didn't enjoy writing, and I hope readers love it as much as I do.

Cynthia Sax: What is your favorite line from Drinking Partners?
Allie Ritch: "I love you enough to kill for you, to lay waste to armies, and yes, to die for you. Well, after I take out your enemies, of course." This line is just so Lucas. He's fierce, loving, and lethal, and he has a dark sense of humor.

Cynthia Sax: Where is Drinking Partners set?

Allie Ritch: This story is set in the eastern United States, but with an alternate history. Vampires have been in the New World for centuries, and many have been terrorizing the humans all that time. Travel is strictly controlled so that the humans can't all flee the area, and there are only a few vampire-free states in the country. Within this setting, areas like the Atlanta Underground and other recognizable locations take on a whole new significance. Because Lucas and Alex are each in charge of large territories, I was able to take them to multiple cities, including Raleigh, Asheville, Charlotte, and Columbia, to name only a few. I think having a range instead of a single, static location makes the book more exciting.
Thank you, Allie Ritch, for joining us today!
Allie Ritch's Website: http://allieritch.wordpress.com
*****************************************************************************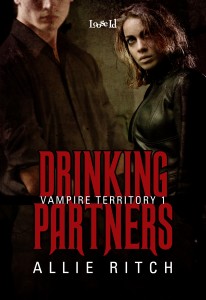 Being the master vampire for the Mid-Atlantic Territory is a tough job. Between the Human Rebellion trying to kill him with poisonous suicide donors and snobby born vampires bucking his authority, Lucas Thane has his hands full. What he needs is a regular drinking partner to feed from and a bigger power block. He finds both in the form of Alexandra Gage, the master of the territory south of his.
Alex could use a little help herself, but she has no intention of letting Lucas take over. Turned into a vampire against her will, she has had enough control taken from her. She'll never let Lucas usurp her right to rule, but will she let him steal her heart? Passion ignites between them, and it's amazing what vampire bodies can do
Buy Now at Loose-Id: http://www.loose-id.com/drinking-partners.html
Buy Now at Amazon: http://www.amazon.com/Drinking-Partners-Vampire-Territory-Book-ebook/dp/B00S71WXYA
Buy Now at ARe: https://www.allromanceebooks.com/product-drinkingpartners-1724323-340.html