I sat down (virtually) with Ashley Ladd for a short interview. Today is the release day for Ashley Ladd's Spooky Sojourn, a MF Paranormal Erotic.

Cynthia Sax: How does Spooky Sojourn start?
Ashley Ladd: Deanna Thompson has just been hired to manage The Gilroy Resort and Hotel in Homestead, Florida and to rid it of the ghosts—or whoever is trying to make the hotel appear to be haunted—haunting it. So she talks to the assistant manager and other employees, then hires a paranormal investigator to help her get to the bottom of the problems. She's taken aback when the man on the other end of the line has the sexiest, most exciting masculine voice she's ever heard.
Cynthia Sax: Where is Spooky Sojourn set?
Ashley Ladd: In a haunted hotel south of Miami, Florida.
I think haunted hotels are especially exciting. In this case there are two purported ghosts haunting the hotel, one who likes to cook and throw knives around the kitchen and the other haunts the bowling alley and not only bowls but chases the employees around with pins. This has driven away many guests and also hotel personnel. However, when a romance writing convention stays at the hotel, they request a ghost tour, surprising Deanna.

Cynthia Sax: What makes Deanna and Harry perfect for each other?
Ashley Ladd: They appear to be opposites so this is a story of opposites attract. Deanna doesn't believe in ghosts and the supernatural. In fact she thinks anybody who does is silly, even strange and immature. Meanwhile, Harry DeVeaux, the paranormal investigator she hires to disprove the ghost theory, whole-heartedly believes in ghosts. They often irritate each other even as sparks fly fast and furious.
When someone tries to kill Deanna, Harry's protective instincts kick into full gear. He lost the first love of his life to foul play. He's going to do everything in his power to keep Deanna safe and here with him.

Cynthia Sax: What do you love about writing paranormals?

Ashley Ladd: Paranormal is so much fun, especially ghosts. They get to fly, float, become invisible, jump into bodies, talk through people, and do just about anything they want.
Since this release occurs right before Halloween, it's perfect timing. The mood is set for spookiness and all kinds of paranormal fun, even in hot muggy South Florida.
Thank you, Ashley Ladd, for joining us today!
Ashley Ladd's Website: http://www.ashleyladd.blogspot.com
*****************************************************************************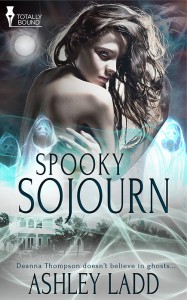 Someone's trying to kill Deanna, but is it the ghosts she doesn't believe in, the rich socialite who might be a murderess, or someone else with a beef against The Gilroy Hotel and Resort that Deanna has just been hired to manage? The Gilroy's owners want the ghosts, or whoever is causing the trouble at the hotel eliminated, and they are pressuring Deanna to do the job as quickly as possible. Harry DeVeaux, paranormal investigator comes highly recommended to do the job and against Deanna's better judgment, she hires him.
Although Deanna thinks Harry's crazy for believing in ghosts and Harry thinks Deanna has a closed mind to the possibilities of ghosts and they highly annoy each other, sparks fly. Deanna can't help but fantasize about Harry and inspired by a romance convention visiting her hotel, writes her fantasies in a private blog that Harry finds, hacks, and reads. Ooh la la!