I sat down (virtually) with Ashley Ladd for a short interview. Today is the release day for Ashley Ladd's Her Men, a Contemporary Erotic MFM menage.

Cynthia Sax: What makes Tim and James so sexy?
Ashley Ladd: They're strong—physically, mentally, spiritually. Mainly, they deeply love their woman and would do anything to win her and keep her safe and happy.
Cynthia Sax: What do you find exciting about Her Men?
Ashley Ladd: In "Her Men" Julie has dreamed about and longed for Timmy and James for twenty years. She finally gets her chance to be with them not just for a one-night stand, but possibly forever.

Cynthia Sax: What is your favorite line from Her Men?
Ashley Ladd: "You too. Is that a sign?"
She couldn't help but chuckle. Since when did Tim believe in signs? "A sign?"…
"Your nipples are puckering through your suit. I'd call that a sign."
I think this is cute and funny in a sexy sort of way. Julie and Timmy are engaging in a bantering verbal foreplay when they first meet after twenty years of being apart. Julie has been sunbathing on the Biloxi Beach, and he finds her in her dream. She's wet and sandy and half-dressed during their reunion and so she's feeling very insecure, then he mentions her physical reaction to him. She wants to die inside all the while she's (obviously) turned on.

Cynthia Sax: Where did you get the idea for Her Men?

Ashley Ladd: This is the marriage of a couple ideas.
First I can never decide who I like better—Captain Jack Sparrow or Will Turner in 'Pirates of the Caribbean'—so it'd be awesome if I could have both. This is fantasy, so why not?
Secondly, there is a man I've never forgotten, that I dream and daydream about often. I keep wondering what if I were to meet him again. What would happen? Does he remember me? If he remembers me, does he think of me fondly? Often? Does he miss me? Does he dream about me like I dream about him? Erotically? Romantically? If we both found ourselves single at the same time, could we, would we get back together?
Thank you, Ashley Ladd, for joining us today!
Ashley Ladd's Website: http://www.ashleyladd.blogspot.com
*****************************************************************************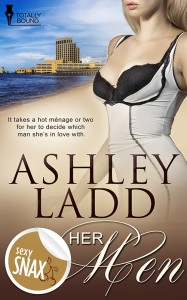 Forty-four year old Julie Weston has loved Timmy and James since her college days twenty something years ago. She's fantasized about both all these long years, never able to choose between them.
Hoping Tim and James will attend, she attends their college marching band reunion. When both men show up her dreams are answered. They're sexier than she imagined and she hopes they won't be disappointed by her older self.
It turns out both men came just to see her again and neither is happy about the other's presence. They fight over her, confusing her more than ever. It takes a hot ménage…or two…for her heart to decide which one she's in love with.
Buy Now: http://www.totallybound.com/her-men