I sat down (virtually) with Suz deMello for a short interview. Today we'll be talking about Temptation in Tartan, a vampire erotic romance.

Cynthia Sax: Where did you get the idea for Temptation in Tartan?
Suz deMello: I wrote Temptation in Tartan due to the success of a previous short story. I sold Highland Vampire to Spice Briefs, where it did well. So I wanted to capitalize on that success by writing another vampire tale set in the Scottish Highlands, but I had a problem: HV is a contemporary, and I just couldn't see writing futuristic Scottish vampires. So I decided to write a prequel set in the 18th century.
Cynthia Sax: Where is Temptation in Tartan set?
Suz deMello: Temptation in Tartan is set in 1747 Scotland, a few years after the disastrous defeat of the Highlanders at Culloden Moor. The aftermath of that battle saw the destruction of the clan-based way of life that had prevailed in the Highlands for centuries. The wearing of tartan and ownership of weapons of war were prohibited, and punishments severe.
Further acts against Scots called "The Clearances"—which literally cleared the land of its inhabitants, their homes and flocks, often using fire as a weapon—killed many and drove still more to overseas havens, including the USA. The Highlands have never recovered their old population level or traditional way of life.
So at that time, Scotland was not merely exciting, but threatening. The story in Temptation in Tartan is based on those historical events, most especially the arranged marriage between Kieran, Laird Kilborn, and Lydia Swann Williston, who is related to Sassenach military in charge of the Highlands. Kier knows that marrying the wealthy widow will safeguard his clan as well as provide needed resources.
One of my favorite lines from the story is based on this situation, when Kieran tells Lydia, "I betrothed with ye for yer money, but after we met, I married ye for purely carnal reasons.

Cynthia Sax: Does a character in Temptation in Tartan have a secret? What is it?
Suz deMello: LOL, Kieran and the rest of Clan Kilburn have a very big secret indeed, one that they're trying to keep from Lady Lydia. When eavesdropping, Lydia hears a snippet that describes this secret:
"But have ye told Lady Lydia? About him, about us?"
"Are ye mad?" Kier answered the castle's steward. "She was affrighted enough on the way here."
"Aye, I heard aboot it. Ye doonae think she's suspicious of a man who ripped off the head of his enemy and drank his blood?"
Kieran laughed bitterly. "At least she doesnae suspect the truth. I doubt she's ever heard the word vampire."
Lydia strained her ears. She thought her husband said something like "vespers," but didn't understand what evening prayers had to do with a secret her husband was keeping from her. Was it a Gaelic word she didn't yet understand?

Cynthia Sax: Is Temptation in Tartan a series and will you be writing more stories in this series?

Suz deMello: Yes, this book is part of a series dubbed "Highland Vampires." Right now it consists of three novels and two short stories. I project another novel and another shortie before I'm done, and the series will trace the vampire clan from its advent to its end, some eight centuries.
Find the list of works in this series here:
http://www.suzdemello.com/highlandvampireseries.html
Thank you, Suz deMello, for joining us today!
Suz deMello's Website: http://www.suzdemello.com
*****************************************************************************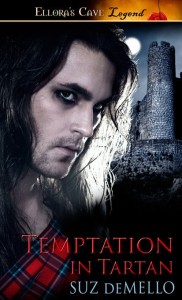 She had to marry a monster…
Rumors had followed the chieftains of Clan Kilborn for centuries. Said to be descended from the Viking Berserkers, they were ferocious in battle, known for tearing off the heads of their enemies and drinking their blood.
But English noblewoman Lydia Swann Williston would marry Kieran, Laird Kilborn, to bring peace to the Kilborn lands after the horror of Culloden and the brutal pacification. A widow, she also brought needed wealth to Clan Kilborn. For her part, eighteen-year-old Lydia wanted children. With her husband killed at Culloden, she would make a new life in the Highlands.
The old chieftain of Clan Kilborn also died in battle, and she hoped that the new young Laird would lack his ancestors' ferocity.
She was wrong.
Buy Now: http://www.ellorascave.com/temptation-in-tartan-1.html