I sat down (virtually) with K. Bromberg for a short interview. Today is the release day for K. Bromberg's Raced (A Reading Companion to the bestselling Driven Series), a Contemporary Erotic Romance.

Cynthia Sax: What makes Colton so freakin' sexy
K. Bromberg: What makes Colton sexy? He's arrogant and harsh and yet can soften when face to face with little boys. He's damaged and broken and yet he allows Rylee to try and piece him back together. He's good-looking but not perfect…imperfectly perfect is how Rylee refers to him. He's an asshole but there's a reason behind it, a defense mechanism that his point of view allows the reader to see that he's trying to let her in. He might still be messing up, but he's trying. He's got a dirty mouth, can dominate in bed, and loves cotton candy. He thinks extravagance is overrated and prefers simplicity – beach picnics and dates at a carnival – rather than jetting off somewhere else. He's the little boy inside the damaged man wanting to be whole again, taking baby steps toward that peace. I think he's such a myriad of contradictions and yet each one has a redeeming quality that makes you root for him, makes you fall for him right along with Rylee.
Cynthia Sax: What excites you about Raced?
K. Bromberg: I was excited to write RACED because it was fun to look at certain scenes in the story and figure them out through Colton's eyes. When I originally wrote the chapter in Rylee's point of view (POV) I didn't have to think about what was going through Colton's mind, what he was thinking, how he was figuring out how to handle these new emotions she stirred up in him. So sitting down to write these scenes after the entire series has been played out proved challenging as well as exciting.
It was challenging because there were times I'd explain what Colton was thinking and realize I couldn't possibly write that because it would have altered the course of the books and since they are published I can't do that. Writing RACED was almost like piecing a puzzle together and making sure the proper edges connected to make the picture complete. Even better than rewriting scenes was writing a few new scenes that better explain a few things and his actions.
The book was exciting because I missed Colton. He is fun to write. Full of sarcasm and humor and demons so there is always a schizophrenic nature to what he is thinking. It's also liberating because he tells it like it is and where Rylee might have danced around a thought, Colton just plows right through it.

Cynthia Sax: Where did you get the idea for Raced?
K. Bromberg: My readers. Plain and simple. I've always said that I'd never rewrite the series in its entirety through Colton's eyes because I feel like readers would get sick of him, that the nostalgia of reading his thoughts would become boring. With that said, I'd written several scenes from the series in Colton's perspective for blogs over the past year. They were scattered across the internet and my readers kept asking me if I could put them all in one place. Along with that, they were asking for a few key scenes I hadn't done, to be retold in his perspective. So after some thought, I asked them if they wanted something like this – a few scenes from each book in the series in one cohesive collection – and they said yes. So…RACED came about.

Cynthia Sax: What one piece of advice would you give new writers?

K. Bromberg: I still consider myself a new writer so please bear that in mind when I give any advice on writing. I'm still learning with every book, still trying to improve so take my comment for what it's worth. To any new writer, I say write, write, and write some more. Writing makes you better. Every time you go through the process of putting pen to paper (fingers to keys) you learn something new, hone your craft. Each time you edit a book, you learn something different about grammar, about phrasing, about making your prose crisper, cleaner, and more concise. So if I was only allowed to give one piece of advice, it would be write something every day, even if you think it's crap and you delete every single word, you're still writing.
Thank you, K. Bromberg, for joining us today!
K. Bromberg's Website: http://www.kbromberg.com
*****************************************************************************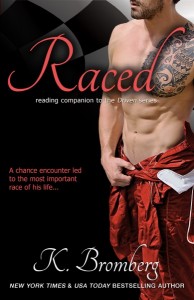 The Colton Points of View Collection
From New York Times and USA Today bestselling author K. Bromberg comes a companion novella to the best selling Driven Trilogy (Driven, Fueled, and Crashed). This novella is a compilation of reader requested scenes from the series retold through the eyes of Colton Donavan.
Colton Donavan lived life in the fast lane, but it took Rylee Thomas to teach him what racing was all about.
Arrogant
Rogue
Broken
Conceited
Dirty-Talking
Rebel
Egomaniacal
Voodooed
Bent
Reckless
You think you know me?
Think again.
*Raced is not a complete re-write of the Driven Trilogy. This companion explores pivotal scenes as well as some new ones written in Colton Donavan's point of view that were not previously published in Driven, Fueled, and Crashed. Hear his thoughts, experience his inner-turmoil, and laugh with him on his journey as he overcomes his demons and accepts what it means to love.
This novella is for the devoted readers of the Driven series. It is recommended that this companion be read after Driven, Fueled, and Crashed.
Buy Now From Amazon US: http://www.amazon.com/dp/B00MNLLAA8
Buy Now From Amazon UK: http://www.amazon.co.uk/Raced-Reading-Companion-bestselling-Trilogy-ebook/dp/B00MNLLAA8
Buy Now From iBooks: https://itunes.apple.com/us/book/raced/id909151619?ls=1&mt=11
Buy Now From Kobo: http://store.kobobooks.com/en-US/ebook/raced