I sat down (virtually) with Sayara St. Clair for a short interview. Sayara St. Clair's latest release is Hurt Me, Heal Me, a Contemporary erotic romance with BDSM.

Cynthia Sax: What makes Paul, your hero, so freakin' sexy?
Sayara St. Clair: God, where do I start? Let's see…
Okay I'm going to be shallow and start with Paul's looks. He's tall, built and rugged.
He has:
a) Shoulder length hair you can tangle your fingers in.
b) Electric blue eyes you can get lost in.
c) Iliac furrows you just want to lick for a day.
As a landscape designer running his own business, he's clever and creative. He also gets outside and works hard with his crew (I'm imagining he does this without a shirt on). And now I've totally lost the plot. Ummm…yes… What I'm trying to say is that being clever, creative and good with his hands also translates to other areas of his life.
Paul is a Dom and in addition to being all stern and commanding, he can be caring and loving and he also has a great sense of humor. He loves to play—in every sense of the word.
He's very skilled in the art of Shibari. He loves tying his woman up in intricate bondage and teasing her to within an inch of her life.
And last but not least, he has a southern accent and a deep, gravelly voice with which to speak it.
So to sum up; big, strong, handsome, stern, smart, funny, caring, loving, rough-round-the –edges, deep-talking, rope-toting Texan Dom.
Yeah baby!
Cynthia Sax: What is your favorite line from Hurt Me, Heal Me?
Sayara St. Clair: "Come on, Snowy," he growled in a deep voice. "It's high time I got some body fluids all over you."
Firstly I have to point out that my heroine's name is actually Caitlin, not Snowy. But I love this particular line because it's said in a scene where Paul and Caitlin are involved in a bit of playful verbal sparring. In the scene, they're just learning about each other's sense of humor. I like to think of it as "stroking each other's funny bones." I also like it because Caitlin (who's had quite a difficult past) is finally coming out of herself and seeing that it's perfectly okay to tease your Dom a little.

Cynthia Sax: What creates conflict between Caitlin and Paul?
Sayara St. Clair: The main conflict stems from the fact that Caitlin has been trained by a sadistic Master to orgasm only while experiencing extreme pain. She longs for things she's never experienced with a lover, things like love, tenderness and care. Paul can give her everything she's always longed for, however it's impossible for him to hurt her the way that she needs.
It's devastating for Caitlin to think of turning away from what she's ached for all her life. And from Paul's perspective, as a Dom who wants to give his woman everything she needs, it just tears him apart.

Cynthia Sax: Is Hurt Me, Heal Me part of a series and will you be writing more stories in this series?

Sayara St. Clair: Yes. Hurt Me, Heal Me is part of the Dante's Purgatory series. It's the first book in the series and I'm currently working on book number two. Well, I work on book two in the moments when the impatient characters from book three pipe down and give me a chance!
The element that ties all the books together, is the BDSM club called Dante's Purgatory. And the next book will be the story of the club owner, the Italian Stallion, Dante Caffarelli.
Thank you, Sayara St. Clair, for joining us today!
Sayara St. Clair's Website: http://www.sayarastclair.com
*****************************************************************************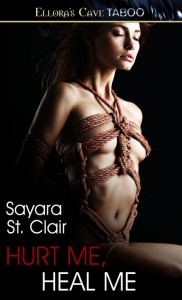 Dante's Purgatory, Book One
After the death of her Master, Caitlin Bennett discovers years of sadistic cruelty at his hands have made her a slave to pain. To orgasm, Caitlin needs the type of extreme agony few responsible Doms are willing to inflict, especially Doms like Paul Nelson. Offering nearly everything she craves, Paul's perfect—except for his aversion to the whip.
Paul refuses to hurt Caitlin, instead attempting to retrain her with patience and trust. But the longer she suffers from a lack of release, the more she's convinced her mind and body are irrevocably conditioned. And Paul has precious little time to convince her otherwise. Waiting in the wings is a newbie Dom determined to have Caitlin for his own…who's learning the whip just for her.
She'll soon have to choose—the man who can give her what she wants? Or the man who can give her what she needs?
Inside Scoop: Caitlin recalls scenes of abuse that could disturb the more tenderhearted.
A Romantica® BDSM erotic romance from Ellora's Cave
Buy Now: http://www.amazon.com/Hurt-Me-Heal-Dantes-Purgatory-ebook/dp/B00MFQ6I62