I sat down (virtually) with Heather Kirchhoff for a short interview. Heather Kirchhoff's latest release is Daybreak, an paranormal.

Cynthia Sax: What excites you about Daybreak?
Heather Kirchhoff: Everything. I just love sitting down to write the story because even I don't always know what's going to happen. That thrills me.
Cynthia Sax: How does Daybreak start?
Heather Kirchhoff: Daybreak starts at Meagan learning more useful magic. I did this because of how Dusk ended (not going to reveal anything) but she needs to learn more then what Meagan knows already like potions. It also has her thinking of someone she truly cares about but has to pretend she doesn't for the sake of her secret. It's a lose-lose situation but Meagan has to learn how to deal with it. I did that because I felt like it was a good place to start and I wanted to jump into her learning more magic.

Cynthia Sax: Where is Daybreak set?
Heather Kirchhoff: I set my Magic series in Santa Monica, California because I've wanted to go there for awhile and I thought it'd be the perfect place to hide Meagan away at. I think it's exciting because it's a big city and Meagan has never lived in one before; she's always lived in a village up until she was five then in isolation. I think it's a different experience for her (much different).

Cynthia Sax: Does a character in Daybreak have a secret?

Heather Kirchhoff:Yes. Meagan (the main character) is the Powerful One. She's a very powerful witch, the most powerful of her kind, and has to hide away. She's lived in isolation since she was five (other magic users want to capture her) until now at the age of seventeen, where she was forced to live in a big city. It's out of her comfort zone but she has no choice.

Cynthia Sax: Is Daybreak a series and will you be writing more stories in this series?

Heather Kirchhoff:Yes. I'm not sure if there will be four or five books but they're planned out for now. Of course, I always get surprises. The next book will be published December of this year and the other two will be before May 2015.
Thank you, Heather Kirchhoff, for joining us today!
*****************************************************************************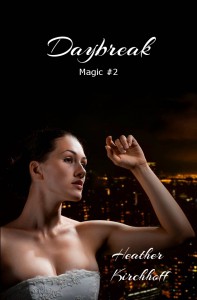 It's been several months since Meagan met Justin, with her secret still safely kept. Then Meagan meets Derek, a dark, mysterious boy. As she tries to sort through her emotions, her world is unexpectedly rocked when someone Meagan never suspects to see again comes back. Now she has more then just Justin and Derek to work out and she starts to realize that her life may end up changing for the worst. She now has to fight, battling between the reality and dreams, trying to figure out her next move.
Buy Now:
http://www.amazon.com/Dusk-Magic-Book-Heather-Kirchhoff-ebook/dp/B00J1UK2BW