I sat down (virtually) with Lisa Carlisle for a short interview. Lisa Carlisle's latest release is Dark Velvet, a sexy paranormal erotic romance.

Cynthia Sax: What is your favorite line from Dark Velvet?
Lisa Carlisle: "I never planned on you finding out what I am."
This is said by the sculptor Antoine. He's attracted to the young poet Savannah and plans to seduce her while she's at the chateau, but his plans become derailed when his feelings grow more complicated—and she discovers his dark secret.
Cynthia Sax: Where does Dark Velvet take place?
Lisa Carlisle: I envisioned a castle set on a remote New England island that was set up to be an art colony. Residents could apply to work on their art for a period of time, away from all the stress of everyday life. Who wouldn't want to visit? Once I worked on one story, I knew I'd return to the island to create more.
The setting itself was inspired by my travels. I love to visit castles, explore the ancient hallways with cool stone walls adorned with paintings, tapestries, or other works of art. I once had an opportunity to visit a writing retreat myself and having three days to work on my art was amazing. We have so many interruptions in our daily life. Being able to focus on creating in an awe-inspiring setting is an experience I hope to have again. Maybe in one like the Chateau in Dark Velvet!

Cynthia Sax: What creates problems between Savannah and Antoine?
Lisa Carlisle: The attraction is forbidden. Savannah arrives as a resident of the art colony so she can spend time working on her poetry. She's distracted by the sculptor who founded the colony, whose gaze burns right through her and leaves her trembling. Acting on the attraction would be wrong, wouldn't it? After all, he is the owner of the colony and her sponsor since she is there on a scholarship.

Cynthia Sax: Does someone in Dark Velvet have a secret?

Lisa Carlisle: Yes! Antoine disguises himself as a human as the founder of the colony, but he is not. You'll have to read to find out more about his dark past. 😉
Thank you, Lisa Carlisle, for joining us today!
Lisa Carlisle's Website: http://lisacarlislebooks.com
*****************************************************************************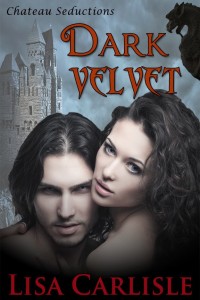 Grad student Savannah Evans is thrilled to be accepted as a resident to a prestigious art colony. Where else would she be able to focus on her craft of writing poetry in a setting like that of the medieval-styled castle? The remote New England island is a respite from her hectic city life. When she meets her benefactor, a mysterious French sculptor, her expectations for carefree days writing near the ocean are distracted by unprofessional fantasies about her sponsor.
Antoine Chevalier built Les Beaux Arts on DeRoche Island to bring purpose back to an existence that has lost meaning. He's wandered the earth for decades and finds solace in returning to art. When Savannah applies for a residency, something about her words touches him. After her arrival, a physical attraction grows between them, which he struggles against. She deserves more than someone of his kind.
Antoine proposes they become lovers during her stay. But the situation turns complicated when Savannah discovers his secret. She had suspicions about his identity, but finds the truth overwhelming. Consumed by her desire for Antoine and faced with a tough decision, she is blind to the danger that has arrived at DeRoche Island.
New adult / paranormal / erotic romance.
Buy Now On Amazon:
http://www.amazon.com/gp/product/B00IQUUMCC/
Buy Now On B&N:
http://www.barnesandnoble.com/w/dark-velvet-lisa-carlisle/1118847375
Buy Now On Kobo:
http://store.kobobooks.com/en-US/ebook/dark-velvet-chateau-seductions
Buy Now On ARe:
https://www.allromanceebooks.com/product-darkvelvet-1441148-340.html