I sat down (virtually) with Kathy Kulig for a short interview. Kathy Kulig's latest release is Nightlord Lover, a sexy vampire menage erotic romance.

Cynthia Sax: What makes Garrick and Ramon so freakin' sexy?
Kathy Kulig: There are two heroes in NIGHTLORD LOVER because this is a ménage story. Garrick can be described as the warrior vampire, a mysterious and muscular predator. And Ramon is the sorcerer vampire with special powers. He's sleek and wild like a rock star. Both are strong and fierce when it comes to protecting and pursuing Larissa. They're intent on claiming her, but not against her will. The only problem is, there are others who would claim her at any time, given the opportunity, even destroy her. Of course, Garrick and Ramon are hot, as vampires usually are.
Cynthia Sax: What is one thing you absolutely love about Nightlord Lover?
Kathy Kulig: I love the setting for this book. New Hope, PA. It's a historical, colonial village along the Delaware River. There are many old homes, shops and restaurants here. It's also known as one of the most haunted places in the world. I also like the magical element in this story and the symbiotic relationship mortal and immortals have that makes the town thrive until the rebels gets greedy.

Cynthia Sax: What is your favorite line from Nightlord Lover?
Kathy Kulig: A favorite line that comes to mind is in the opening paragraph. I plan to start this intro. paragraph for each book to set the tone. It's the internal thoughts of one of the vampires from the New Hope Guild. I'll let the readers see if they can guess who it is. The line is: "Eternal nights awaken the sensual hunger that drives me into the shadows, searching for the one to end the agony and fill the need."

Cynthia Sax: Where did you get the idea for Nightlord Lover?

Kathy Kulig: I've been to the real New Hope, PA many times and learned about the history, stayed in a couple bed and breakfasts (both claim to be haunted), and took the ghost tour. There truly is a hitchhiking ghost like I have in the story. I always felt it would be a great setting for a vamp story. While hubby and I stayed at one of the B & B's, we learned about a hidden tunnel under this huge Victorian house that was built in the 1700s. The tunnel was part of the Underground Railroad that was used to rescue slaves and help them to freedom. This tunnel was found while the owners of the B & B decided to do some construction. They stopped the construction to preserve the tunnel.
The tunnel ran from a trap door beneath a gazebo in the yard to the basement of the house. As the writer, I thought what if there were dozens of tunnels like this all around the village connecting stores, businesses and homes? Vampires could travel underground in these tunnels during the day. And what if there was a tunnel that crossed beneath the Delaware River? In my story there is a council of vampire slayers who live in peace across the river. But not for long. All this musing created the beginning of Nightlord Lover
Thank you, Kathy Kulig, for joining us today!
Kathy Kulig's Website: http://www.kathykulig.com
*****************************************************************************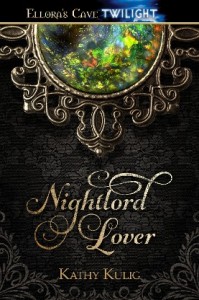 Warrior vampire Garrick Labar guards the secrets of the Guild. His comrade–vampire and sorcerer Ramon Travere–enforces the uneasy alliance between mortals and immortals. When Larissa Devine moves into town, both Garrick and Ramon are mesmerized and enraptured by her. They crave to claim her as their crimson swan and lover. But a new arrival is fair game and if they don't claim her first, a band of renegades will.
Larissa finds a blistering-hot ménage with her protectors too intoxicating to resist. The immortals can't deny their sexual attraction for her and sense her blood pulsing hot and furious when they're close. Erotic desires thrust her into a world of danger and seduction. When the renegade vampires attempt to destroy a hundred years of peace, Larissa is caught in the crossfire. Eternal love and carnal nights can be her future if she survives.
Buy Now: