I sat down (virtually) with Amanda Young for a short interview. Amanda Young's latest release is GWM Wanted, a contemporary MM romance.

Cynthia Sax: Where did you get the idea for GWM Wanted?
Amanda Young: Actually the idea for GWM Wanted came from a discussion between members of my family about keeping the spice in a long term relationship. I wanted to write a story about what happens to characters after the bloom has faded a little. Keeping the love alive is just as important, if not more so, than falling in love to begin with, and I wanted to show that in a way that illustrated the insecurities and fears of couple who still love each other but have let themselves drift apart over time.
Cynthia Sax: What causes problems between Mark and Sam?
Amanda Young: The couple in GWM Wanted, Mark and Sam are in a rut. They've been together for years and are starting to grow apart. In an effort to spice things up, they look into arranging a threesome with a stranger. The internal conflict comes from Sam and Mark's insecurities. The external conflict comes from the stranger and what he plans to do to them once he weasels his way into their life and home.

Cynthia Sax: What one piece of advice would you give new writers?
Amanda Young: My best advice to new writers would be to write the story they'd want to read rather than pandering to whatever the hot new trend is. Chances are unless you write at lightning speed, by the time you get that story completed, submitted, and released the trend will be over and you'll be left with a story no one wants to read. For example, if mermaids are hot this year but you've always wanted to write a story about unicorn shifters, then go with the unicorns. You never know when you're bright idea might be the next big thing.

Cynthia Sax: What do you love about writing contemporary MM romance?

Amanda Young: What's not to like? I get to write stories about people falling in love. The only thing better than writing about people falling in love is experiencing it for yourself and I've already done that. I met my forever love at sixteen and our marriage is still going strong fifteen years later.
Thank you, Amanda Young, for joining us today!
Amanda Young's Website: http://www.amandayoung.org
*****************************************************************************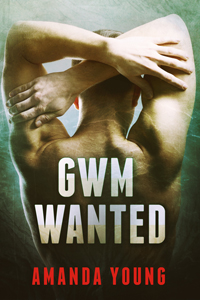 Finding true love is only half the battle. For Mark and Sam, love and commitment came easily. Holding onto it, won't be nearly as simple.
Mark Peterson is still deeply in love with Sam, his partner of 15 years. He's perfectly happy with their relationship, even if their sex life has grown a little stale over the years. When he begins to notice Sam's gaze wandering toward other men, he fears that his younger lover may be losing interest in him.
When Sam suddenly suggests they broaden their sexual horizons by inviting a third man into their bedroom, Mark reluctantly agrees, willing to do whatever it takes to hold onto his lover. He's willing to share his husband's body, so long as he retains his heart.
Together, they answer an ad in an online advertisement. The other man seems to be just what they're looking for — handsome, hung, and only interested in no strings attached fun just as they are. It isn't until after the excitement begins that they find out they've made a terrible mistake.
Buy Now On Amazon:
http://www.amazon.com/GWM-Wanted-Amanda-Young-ebook/dp/B00KLONBVK/
Buy Now On ARe:
https://www.allromanceebooks.com/product-gwmwanted-1485430-149.html
Buy Now On B&N:
http://www.barnesandnoble.com/w/gwm-wanted-husbands-and-wives-amanda-young/1017477885