I sat down (virtually) with Madeline Pryce for a short interview. Madeline Pryce's latest release is Dark Secrets, a sexy Paranormal.

Cynthia Sax: How does Dark Secrets start?
Madeline Pryce: Dark Secrets picks up two months after the close of Dark Cravings where she was put through the ringer. The opening scene represents a culmination of events that finally pushes Ella over the edge…
A swirling mass of orange and red flames cut through the air, the sound of its approach deafening. I narrowed my gaze, shutting out everything except the firebomb hurling in my direction. Time slowed. Oxygen vaporized into thick, curling strands of smoke. Heat waves wrapped around the outside of the blazing inferno barreling ever closer.
I should be doing so many things right now. Years as a lethal killing machine afforded me the training I needed to protect myself. Ducking, phazing…hell, even something as simple as a side-shuffle to the left would have saved my ass.
Except I didn't move. Instead, I had a complete and total what the fuck moment. Our routine training session had just taken a complete one-eighty in the wrong direction. Micah McGregor, my half-demon lover, had just thrown a fireball at my head. Holy crap. Since when had he been able to conjure flames out of thin-freakin'-air? Knowing he was a demon and actually seeing it were two very different things. Proof that his demonic powers were manifesting lay in the ribbons of black magic twisting from the starburst pattern embedded into his palm.
Cynthia Sax: Does a character in Dark Secrets have a secret?
Madeline Pryce: Dark Secrets – as the title indicates – is all about the secrets we keep from the ones we care about. Ella isn't the only one withholding information. As the book unfolds – one secret after another is revealed, pulling the readers deeper into the plot and series arc.

Cynthia Sax: Is Dark Secrets a series and will you be writing more stories in this series?
Madeline Pryce: Dark Secrets is the second full-length book in the Dark series. The first book, Dark Cravings, released from Ellora's Cave in Dec 2013. The main series follows Ella and Micah with some novella interludes for the side characters. There is also another spin off 3-book series contracted by Ellora's Cave that will start publishing next year in 2015. One thing you can expect from the Dark series is pulse-pounding action, gritty action, witty dialogue and some smokin' hot sex scenes.
Series Reading Order
Dark Cravings (#1 Ella/Micah – 85k)
Dark Innocence (#1.5 Hannah – 45k)
Dark Secrets (#2 Ella/Micah – 85k)
Dark Vengeance (#2.5 Castro – 45k) – release date coming soon!
Dark Promises (#3 Ella/Micah) – Spring 2015

Cynthia Sax: What one piece of advice would you give new writers?

Madeline Pryce: This is a question I get a lot. The best thing any new writer can do is write. And read. Read tons and tons of fiction books, study the wording, how the sentences are constructed and what techniques the author uses to foreshadow and reveal the plot. The more you write, the more naturally it will come (most times, LOL). Next, get yourself a good critique partner – check out writing forms. The ability to take a critique and learn from it and use it to enhance your novel is a valuable skill. Don't ever give up, just keep trying and writing.
Thank you, Madeline Pryce, for joining us today!
Madeline Pryce's Website: http://madelinepryce.blogspot.com
*****************************************************************************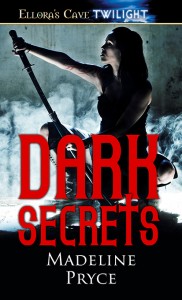 The worst moment of Micah's life was when Ella nearly died in his arms. Her miraculous recovery should have been the start of their future. Unfortunately, a new demonic heritage, the Shadow Agency's corruption and Julian, the vampire who turned Ella, are testing their relationship. Despite hotter-than-ever sex and a variety of new places and positions to explore, Micah begins to wonder if a relationship based on lust can survive for more than a few scorching-hot months.
Ella has forgiven, but not forgotten, the fact that Micah once plunged a dagger through her heart. Everything with Micah is passion, excitement and an uncontrollable desire to explore his body in a variety of very satisfying ways. But as buried secrets, ongoing lies and murderous deceptions pile up, Ella is reminded that she and Micah's relationship was based on a curse. In order to forge a future together, Ella and Micah will have to face down their personal demons—and prove that love and trust are more than just words.
A Romantica® paranormal erotic romance from Ellora's Cave
Buy Now From Ellora's Cave: