I sat down (virtually) with C. Zampa for a short interview. C. Zampa is celebrating the anniversary of Honor C, a M/M Contemporary.

Cynthia Sax: What makes Honor and Jorge sexy?
C. Zampa: They are Hispanic and I have such a deep passion for all things Latino. The culture, the romanticism associated with the heritage. The language, the accents, a romance all their own.
Cynthia Sax: How does Honor C start?
C. Zampa: The story begins in a tree house. The tree house is central to the story because it's the place the Honor and Jorge hung out as children, where Honor discovered he was attracted for men, and it became Honor and Jorge's hide-a-way when they became lovers.

Cynthia Sax: Where is Honor C and why is this setting exciting?
C. Zampa: San Antonio. Because San Antonio is an old, old city with a deep Spanish heritage and romantic, colorful culture. It's a mix of ancient romance and modern, electric life. A place for romance, for artists. Full of beautiful spots for romantic scenarios between characters. And, as I'm familiar with the city, and I'm Texan, it's also convenient to use as a romantic backdrop for my fellas.

Cynthia Sax: What makes Honor and Jorge right for each other?

C. Zampa: Because they are complete opposites. Honor is a big man, sunshiny personality/smile, virile, he's gentle, caring, eager to please. Yet, because of his childhood experiences, his self-confidence is low. Jorge, on the other hand, is prissy, bitchy, icy/fiery, in-your-face, beautiful, confident. Raised privileged and loved. His health, though, has always been poor, compromised by a heart condition.

Cynthia Sax: What creates problems between Honor and Jorge?

C. Zampa: The fact that Honor denies he's gay, and when Jorge comes back into his life, he feels the passion that never left. But, not only that, Honor is married. On one hand, he's realizing day by day that he is gay and is tormented by that because of his loyalty to his wife and son.
Thank you, C. Zampa, for joining us today!
C. Zampa's Website: http://www.authorczampa.blogspot.ca/
*****************************************************************************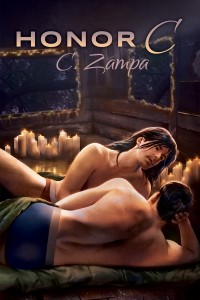 When Honor Castillo convinces himself he isn't gay, he begins a new life. He ends his affair with his lover, Jorge Villagomez, and marries Rebecca to establish a life with her as a respected San Antonio businessman. They have a son and he tells himself he is happy.
Eleven years later, Jorge returns to San Antonio, and his path crosses with Honor's once more. The flame of their passion never died, and neither did Jorge's love for Honor.
When Jorge approaches Honor to design his studio, Honor believes he can walk the line between friendship and lovers. But when a sudden crisis threatens to take Jorge from him forever, Honor must choose between his duty and his heart. Most of all, he's forced to decide what he's willing to lose in order to be true to who he really is.
Buy Now From Amazon:
http://www.amazon.com/Honor-C-C-Zampa-ebook/dp/B00D2KE11E
Buy Now From Dreamspinner:
http://www.dreamspinnerpress.com/store/product_info.php?products_id=3823