I sat down (virtually) with Adera Orfanelli for a short interview. Adera Orfanelli's latest release is Gunn's Kiss, a sexy SciFi.

Cynthia Sax: What excites you about Gunn's Kiss?
Adera Orfanelli: I love the combination of science fiction and life on a space station along with vampires. Though this installment in the series doesn't have vampires as a main character, they are there along with their politics. I find it fascinating to play with some of my favorite things in fiction, and as a political junkie, it's fun to create a world not too different from our own where those in power move behind the scenes.
Cynthia Sax: How does Gunn's Kiss start?
Adera Orfanelli: Gunn has appeared in the earlier installments (though each book stands alone) and I wanted him to finally meet a character who gets under his skin. The story begins with their meeting because of the heroine's species. She's so different from his other clients that it immediately sets him on edge. He's "creeped out" by her, and yet attracted all at the same time.

Cynthia Sax: Is Gunn's Kiss a series and will you be writing more stories in this series?
Adera Orfanelli: Yes, the Politics Bite series will continue. This is book three, though each book can and does stand on its own. However characters make reappearances in the other books, so it is fun to see and catch up with characters from the earlier stories. There are two more planned books. Blood Music, the book following this one, will close out a few loose ends that are left in this book and then there is a final volume. I am thinking that there may be additional related series.

Cynthia Sax: What one piece of advice would you give new writers?

Adera Orfanelli: Write the stories that excite you. Have fun with it. Even if you have a story that is offbeat or something you think a publisher wouldn't pick up, there are always publishers out there like Changeling who invite their authors to use imagination.
Thank you, Adera Orfanelli, for joining us today!
Adera Orfanelli's Website: http://www.aderaorfanelli.net
*****************************************************************************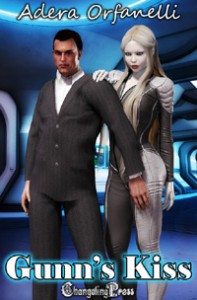 Security Expert Gunn Kierney takes each assignment in stride, until he's assigned to a mysterious visitor to Nochte-Theta. He finds this telepathic alien, one of the few of her species, to be more than an assignment, and when he discovers a member of the council wants her dead, the passion, as well as danger, heats up around them.
Buy Now From Changeling:
http://www.changelingpress.com/product.php?&upt=book&ubid=2249