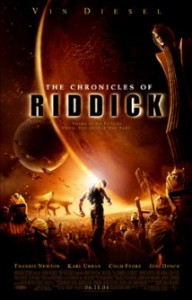 I love beast heroes, SciFi, and villains turned hero so it should come as no surprise that The Chronicles Of Riddick, a flick combining all three of these, is one of my favorite movies.
We were first introduced to the mysterious super sexy Riddick in Pitch Black. Riddick, played by the yummy Vin Diesel, is a bad ass alien warrior with freaky eyes and a seemingly cold approach to his fellow beings.
He's not the hero in Pitch Black. He isn't completely bad but he certainly isn't a good being (or even a good Furyan). I really enjoyed that The Chronicles of Riddick picks up that storyline, showing the characters years later.
There are two scenes in The Chronicles of Riddick that I absolutely adore.
The first is the scene in the prison on Crematoria. Gehenna 5, in Assassin Mine and Unleashed Menage, is a nod to Crematoria. The 'Who's the better killer' game with Kyra is dang sexy (I'll never look at tea cups the same way). When Riddick tamed the wild inmate-eating beasts, claiming "It's an animal thing", I needed a cold shower. Riddick is the perfect beast hero, primitive, yes, but also highly intelligent.
I also loved the scene when they're escaping from Crematoria. Kyra is climbing the mountain. The sun is rising. We know she won't make it, not without help.
Riddick claims to be uncaring yet we see his conflict. If he risks his life to save her, he'll have to admit he cares and open himself to the possibility of being hurt. He'll also have a weakness enemies can use against him (which, of course, they do).
It is a character defining moment and because Riddick hasn't always done what is 'right', we're not quite certain what his decision will be.
I recommend The Chronicles of Riddick to beast fans (if you love Laurann Dohner's New Species series, this is a movie for you) and SciFi fans.

Subscribe To My Release Day Newsletter: http://tasteofcyn.com/2014/05/28/newsletter/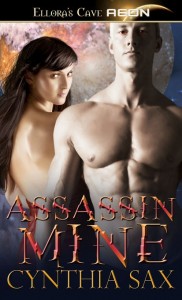 Darius, a Balazoid assassin, lives a solitary life structured by rigid rules. Nothing is more forbidden than his sexual attraction to Sabria, a sultry human female. Yet she's all he thinks about. One kiss, one touch, one heart-stopping encounter in a darkened alleyway isn't enough to satisfy his unnatural obsession. Breaking every rule on both of their planets, Darius captures Sabria and takes her for his breeder.
Sabria takes one look at Darius and she knows she'll have him…multiple times, in all sorts of positions. She'll voyage to the end of the known universes to prove she's the only breeder he'll ever desire, blazing his notions of how a female should behave.
Because the only force fiercer than a Balazoid assassin is a woman's lust.
Buy Now: http://www.ellorascave.com/assassin-mine.html
Buy Now on ARe: https://www.allromanceebooks.com/product-assassinmine-923928-340.html
Buy Now on Amazon: http://www.amazon.com/Assassin-Mine-Operation-Erotic-ebook/dp/B0091VFAQ8
Buy Now on B&N: http://www.barnesandnoble.com/w/assassin-mine-cynthia-sax/1112677900