I sat down (virtually) with Shelly Bell for a short interview. Shelly Bell writes steamy erotic thrillers and her latest release is White Collared, a sexy contemporary serial.

Cynthia Sax: What excites you about White Collared?
Shelly Bell: Everything from the mystery to the romance to the characters excites me about my four-part serial, White Collared. Usually after I finish writing a book, I'm ready to move on, but not in this case. Kate Martin, the heroine, has gone through quite a bit of trauma in her young life, yet she hasn't allowed it to stop her from achieving her dreams. She's a fighter. Of course, she's not perfect. Emotionally she hasn't allowed anyone to get too close and she overmedicates herself with prescription drugs. But she's brilliant, compassionate, and tough. That's why I had to create a worthy hero and a challenging antagonist for her.
White Collared is not only a murder mystery, but it's also a love triangle. The first three installments end on a cliffhanger both in terms of the romance and the suspense. I think it will keep the reader engaged from week to week wondering what will happen for the characters. That's why I created a forum on my Facebook Author Page where readers can discuss the books and answer questions such as: Are you on #TeamJaxon or #TeamNick? Who do you think killed Alyssa Deveroux? What really happened to Kate's father? I'll be stopping by the forum to give special teasers of the next installment, so you won't want to miss it!
Cynthia Sax: Where did you get the idea for White Collared?
Shelly Bell: A few years ago, I had wanted to write about a law student, but since the age group fell between young adult and adult, I was told no publisher would acquire it. Of course, a year later, new adult exploded on the scene.
Then a local murder made national headlines. The husband allegedly hired a hit man to kill his wife because he was secretly a Sadist and Dominant. He allegedly wanted to leave her for his slave, but feared he'd lose his money if he asked for a divorce. Because of the success of Fifty Shades, the news reports focused on the BDSM angle and inferred that he killed her because he was a Dom and Sadist. Just because you're a sadist doesn't mean you're a murderer. They knew nothing about the practice of BDSM and it infuriated me, so I decided to write a story about a murdered submissive, but from the perspective of a legal intern.

Cynthia Sax: What creates problems between Kate, Nicholas and Jaxon?
Shelly Bell: I didn't make the romance easy on Kate. First of all, when the book opens, she has a boyfriend. But soon, two other men complicate her love life—Nicholas Trenton and Jaxon Deveroux. Aside from the love triangle, each of the men are forbidden. Nick is her boss and Jaxon is her client. Not to mention the men are best friends and one of them is suspected of murdering his wife! Kate has spent years working toward her goals and now that she's close to reaching them, an affair with either her boss or her client could ruin her.
But the biggest conflict in White Collared is that everybody has a secret. The question is what happens when the secret is uncovered? Unfortunately for Kate, it always means danger.

Cynthia Sax: When did you first experience the orgasmic bliss known commercially as Nutella? (grins)

Shelly Bell: I had the luxury of having my first encounter with Nutella in May of 1990. While my friends went on cruises for spring break, I went to France and Italy with my English teacher, his wife who taught French at another high school, and her students. Best. Decision. Ever. One night after visiting an art museum, we made our way into the courtyard where we were treated to a fireworks display and dessert. That's when I ate a crepe stuffed with Nutella. I thought I'd died and gone to French heaven. I never forgot my special treat, but it wasn't until my honeymoon when I returned to Italy with my husband that I got to indulge in it again. And indulge I did! Every morning I had coffee and a roll smothered with Nutella. Sadly, I gave up sugar five years ago, so I relinquish all future Nutella experiences to you.
Thank you, Shelly Bell, for joining us today!
Shelly Bell's Website: http://www.ShellyBellBooks.com
*****************************************************************************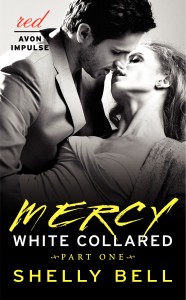 The first sexy installment in Shelly Bell's four-part serialized erotic thriller about a young law student who must go undercover at a sex club to prove her client is not guilty of murder.
Driven by ambition …
Third-year law student Kate Martin outran her tragic past to become an intern for her idol and secret crush, the powerful attorney Nicholas Trenton. She is thrilled when Nick assigns her to represent his best friend and client, millionaire Jaxon Deveroux … the prime suspect in his submissive wife Alyssa's murder.
Seduced by desire …
Kate knows they have only a few days to find the real killer, and since signs point to a member of the BDSM community, she volunteers to go undercover as Jaxon's submissive at Benediction—the private sex club where he is a member—to covertly investigate Alyssa's last few months. For years, Kate has kept her dark fantasies a secret … but a chance to explore them with sexy, dominant Jaxon is just too tempting to pass up.
Buy Now From:
Amazon http://goo.gl/vnnIiA
Barnes and Noble http://goo.gl/DF29UH
iTunes http://goo.gl/KMS2oi
Google Play http://goo.gl/6gQRcW
Books A Million http://goo.gl/TDJ0Re
All Romance e-books http://goo.gl/q5YGiO