My first five contemporary erotic romance releases (He Watches Me, He Touches Me, He Claims Me, Flashes Of Me, and Breaking All The Rules) were all set in Gabriel Blaine's LA based company, Blaine Technologies.
There are many more interesting people living in this world and I've received some wonderful emails from reading buddies asking me if Michael or Miss Yen or other characters will receive stories also. Will we see Blaine and Anna again?
The answer is…
I don't know.
Yeah, that's a terrible answer, isn't it? (sheepish grin)
I don't have any immediate plans to write more stories set at Blaine Technologies. Sinful Rewards, my 12 novella serial releasing from Avon (the first story releases July 15th), is set in Chicago. I've already written the 8th story in this serial and Blaine hasn't yet made an appearance.
This doesn't mean he won't show up. As my SciFi readers know, my worlds and series tend to collide (as they do in real life). I also have no control over my characters. If I tell a hero not to show up somewhere, that's usually where he insists on going.
Blaine, being a billionaire, completes business all over the planet, including in Chicago. The world of the extremely wealthy is very small. Blaine definitely knows Nicolas, the billionaire in Sinful Rewards.
If there is an uber-wealthy function or event in Sinful Rewards, Blaine and Anna could be guests. (Man, oh, man, that would be awesome! I'd LOVE to listen to a conversation between Blaine and Nicolas.) But I can't guarantee that there will be such an occasion.
I DO believe that lovers of the Blaine Technologies stories will enjoy Sinful Rewards.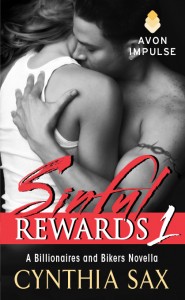 Sinful Rewards 1
Cynthia Sax
Belinda "Bee" Carter is a good girl; at least, that's what she tells herself. And a good girl deserves a nice guy—just like the gorgeous and moody billionaire Nicolas Rainer. He is everything she wants in a man.
Or so she thinks, until she takes a look through her telescope and sees a naked, tattooed man on the balcony across the courtyard. Hawke is mysterious, the bad boy she knows will bring only heartbreak. He has been watching her, and that makes him all the more enticing.
But when a mysterious and anonymous text message dares her to do something bad, she must decide if she is really the good girl she has always claimed to be, or if she's willing to risk everything for her secret fantasy of being watched.
Is her mystery man the reclusive billionaire with a wild side or the darkly dangerous bad boy?
Buy Links:
Amazon: http://www.amazon.com/Sinful-Rewards-1-Cynthia-Sax-ebook/dp/B00I7V89H0
Barnes And Noble: http://www.barnesandnoble.com/w/sinful-rewards-1-cynthia-sax/1119055390