I sat down (virtually) with Kacey Hammell for a short interview. Kacey Hammell writes steamy erotic romances and her latest release is PRANK ME, a sexy contemporary erotic romance.

Cynthia Sax: What excites you about PRANK ME?
Kacey Hammell: I'm excited for readers to enjoy it. I had a lot of fun writing this story. It's carefree, fun, exciting and not rife with a lot of conflict. The characters are who they are – always up for a good time – and are also about the bonds of friendship. It was such an ease to write this story. I love short stories. They really rejuvenate the Muse.
Cynthia Sax: How does PRANK ME start?
Kacey Hammell: It starts with a scene between the heroine, Lark, and her best friend, Bobby. They've been friends since college, work together and would call upon one another for anything. Which Bobby does! *g* Through the first chapter, we get a feel for who these characters are, the bond they have, and how fun they both are.

Cynthia Sax: Is PRANK ME a series and will you be writing more stories in this series?
Kacey Hammell: It wasn't written intentionally with a sequel/series in mind, but the idea is always out there IMO for any story to evolve / revisit again down the road. Bobby might need his own story one day! I've learned to never say never when it comes to my characters. LOL

Cynthia Sax: What one piece of advice would you give new writers?

Kacey Hammell: Never ever give up. No matter how many rejections you receive, no matter how many times you have to re-write a story, never give up. If you have writing dreams and goals, continually work your craft, research and surround yourself with wonderful critique partners who will tell you like it is. Just never give up, no matter how many bumps in the journey you face.
Thank you, Kacey Hammell, for joining us today!
Kacey Hammell's Website: http://kaceyhammell.com/
*****************************************************************************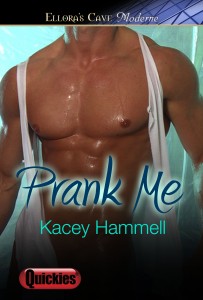 From zero to sixty … no amount of braking will stop this crash course with love.
Race car driver Lark Stevens agrees to help a close friend prove that paybacks can be a bitch. But what she doesn't expect is to fall in lust with her mark. Or is he who she thinks he is?
Set on her mission, Lark assumes the mystery man who amps up the heat and pushes her heart into overdrive is her intended target. And once they connect, getting even is the last thing on her mind.
As the heat smolders and revs from zero to sixty in mere seconds, Lark realizes she's on a crash course with love that no amount of braking will stop.
Inside Scoop: No holds barred sexual teasing, dances meant to titillate and push you over the edge, and M/F love scenes to get engines revving.
Buy Now From Ellora's Cave: http://www.ellorascave.com/prank-me.html
Buy Now From Other Retailers: http://kaceyhammell.com/bookshelf-2/prankme/