I sat down (virtually) with Milly Taiden for a short interview. Milly Taiden writes hot erotic romances and her latest release, The Bratty Lioness Tamer, is included in The Sin Circus anthology.

Cynthia Sax: What excites you about The Bratty Lioness Tamer?
Milly Taiden: One of the biggest excitements for me about The Bratty Lioness Tamer is that it is my FIRST FFM short. I had so much fun writing this and it is oh so sexy, if I do say so myself. All the stories in the antho are but I think I went a bit overboard in the naughty kitty side LOL. And the fun part is that it's not even my paranormal side which I can rock those shifters like there's no tomorrow.

Cynthia Sax: Where did you get the idea for The Bratty Lioness Tamer?
Milly Taiden: Well to be honest my editor extraordinaire who put it all together and came up with the idea gave me a hint about the lion tamer and I went with it. I had a lot of fun but I have to say it was strange writing about a lioness tamer that wasn't with shifters. I think that has to be a first. So I made sure to keep it sexy in other ways. You'll have to read it to see.

Cynthia Sax: Where is The Bratty Lioness Tamer set?

Milly Taiden: My story is set in a circus. It is a sex circus so DEFINITELY sexy and exciting. I loved making it a live show where people got to watch my couple in the act LOL. It was loads of fun to write.

Cynthia Sax: What one piece of advice would you give new writers?

Milly Taiden: Get a good editor. I have had the pleasure of working with some amazing ones and a great editor makes all the difference. They can take your story from looking good to being unforgettable. Everyone who thinks they are good enough to not need one are probably in dire need of one. Editors look at your story as a whole. They make it shine. Your baby might need an overhaul and only a good editor will help you do that and keep the integrity of your work. So buck up, get a great editor and get to work!
Thank you, Milly Taiden, for joining us today!
*****************************************************************************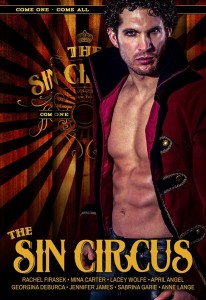 Everyone remembers their first trip to the circus–the home of fantasy and dreams. Where the idea that anything is possible meets a creative reality of alluring tricks and amazing acts of defiance. The big top is known for inspiring lust, awe, and happy memories, and now you'll see it like never before.
Some of today's hottest romance authors combine the decadent memories of the center ring with all the flavors in erotic fiction in The Sin Circus. Whether it's with a dominating Ringmaster, a lion tamer's bratty kittens, or a dark Harlequin King, this show is sure to shock the audience with its dazzling dares and tantalizing tales.
Dark Surrender by Rachel Firasek
He stole her control, but she hasn't completely surrendered her heart…yet.
Claimed by the Blade by Mina Carter
He's waited years to claim her. Tonight, she's all out of excuses…
Ring of Fire by Lacey Wolfe
The Ringmaster must figure out his feelings before his ballerina goes up in flames…
Unmasking Her Dom by Jennifer James
Tormented by touch, the King of the Harlequin resolves to release his bratty sub before she strips away the last barriers between them, and discovers his secret shame.
http://www.authorjenniferjames.com
The Bratty Lioness Tamer by April Angel
Two sexy female lovers. A new master ready to tame them. And the performance they'll never forget.
Sweet & Sticky by Sabrina Garie
Recipe for forever: Mix a flailing writer with a down-on-his-luck agent, toss in a pound of cotton candy and an empty bleacher. Let simmer.
Twice the Pleasure by Georgina DeBurca
As the bindings unravel, two brothers race to save the woman who has captured their hearts.
https://www.facebook.com/author.deburca
With the Greatest of Ease by Anne Lange
He traded a trapeze and the catch of a lifetime for a life in a courtroom. Now he'll share her, to catch her, one last time.
Buy Now: https://www.allromanceebooks.com/product-thesincircus-1490325-362.html