I sat down (virtually) with Tina Donahue for a short interview. Tina Donahue writes hot, hot, HOT erotic romances and her latest release is Stolen Desire, book four in the Outlawed Realm series.

Cynthia Sax: What makes Zekin, your hero, so dang sexy?
Tina Donahue: Zekin's commanding but also tender when it comes to Paige. I'm all for Alpha heroes, but not the kind we used to see in romances. Brooding. Snarling. Always in a freaking bad mood. Makes you want to smack them upside the head and yell, "Chill out!"
I like a man with integrity, honor, and a soul. A great sense of humor is also good. Although Zekin comes from a world that doesn't allow emotion, he gets playful with Paige. In other words, he's fun to be with even outside of bed.
To me, the sexiest thing a man can do is listen to a woman and understand where she's coming from. It's not always about sex. Zekin makes that very clear in how he responds to Paige throughout the story. J
Cynthia Sax: What excites you about Stolen Desire?
Tina Donahue: I loved creating another world. Generally speaking, I'm not into sci-fi, but I did love Avatar. I've seen it numerous times and still marvel at the world the artists and writer created.
I wanted to do the same with Stolen Desire. To provide a sense of wonder and danger which bonds Zekin and Paige in their struggle to survive. Exciting and romantic stuff.

Cynthia Sax: Where did you get the idea for Stolen Desire?
Tina Donahue: Stolen Desire is book four of my Outlawed Realm series. Each book begins the story of new characters with the others from earlier books making 'guest' appearances. The series involves the five dimensions on earth – realms that are all inhabited, but the people don't see each other because of time differentials.
E1 is earth as we know it. E2 is beneath it where the people are so advanced there isn't illness any longer, nor is there desire. It's been outlawed. E3 is the land of the dead. E4 is a dimension of jungles and twilight where the rulers of E2 have built a pleasure palace where they house pleasure slaves for their carnal use. E5 is the land of ice and fire. Ice because it's the furthest dimension from the sun. Fire, because it's also the closest to the earth's core.
In Stolen Desire, I wanted to explore E5. What happens when a young woman from Seattle is abducted and brought there by a guard from E2 for his use as a pleasure slave. It all started rolling from there.

Cynthia Sax: What causes problems between Paige and Zekin?

Tina Donahue: First, they're from different realms. Paige comes from Seattle, earth as we know it. Zekin is from E2 where feelings have been outlawed. Everything's uniform, the men all resemble each other. There's no difference between the women's appearances, they're all the same. The rulers have manipulated DNA to create perfect specimens. To eliminate risk, hunger, war. A flawless and stifling society. Paige is a wonder to Zekin. Her inner fire thrills him.
However, he feels they have no future. He can't live in her dimension and she can't very well stay with him on E5, a prison colony built by the rulers on E2. His goal is to bring her home. Her goal is to see that they remain together. That, coupled with the threat of guards and E2's rulers keeps things hopping.
Thank you, Tina Donahue, for joining us today!
Tina Donahue's Website: http://www.tinadonahue.com/
*****************************************************************************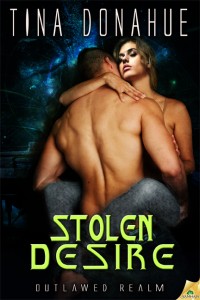 Her freedom depends on one man. A criminal to his realm…
Outlawed Realm, Book 4
One minute, Paige Ross is outside a Seattle bar, grieving a failed engagement. The next, she jerks awake in a weird, candlelit room with velvet walls, black silk sheets, and a man who motions for silence.
Paige has little choice but to trust the powerful stranger who promises a way out of what looks like Satan's brothel. And pray his promise to keep her safe is as real as the heat burning in his eyes.
Banished from E2's ruling elite for supposed crimes against the realm, Zekin risks everything to rescue those brought to E5 for the guards' carnal pleasure. Paige will be leaving this inhospitable realm of fire and ice—if he can somehow forget the way her trembling body melts in his arms.
Safe—temporarily—in an underwater world populated by strange creatures, Paige's sexual awakening explodes into an unquenchable need that consumes them both. But the guards will be looking for her. And Zekin's plan to send her home is a dangerous journey she cannot—will not—take without him.
Product Warnings
Scorching-hot sex and loads of aching tenderness between a drool-worthy hunk who's determined to do the right thing and a woman who's not about to give him up.
Buy Now From Samhain: http://store.samhainpublishing.com/stolen-desire-p-73254.html
Buy Now From Amazon: http://www.amazon.com/Stolen-Desire-Outlawed-Realm-Donahue-ebook/dp/B00GN98BW6
Buy Now From B&N: http://www.barnesandnoble.com/w/stolen-desire-tina-donahue/1117398265