I sat down (virtually) with Tina Donahue for a short interview. Tina Donahue writes steamy erotic romances and her latest release is Seven Sensuous Days, Book Four in the Appointment with Pleasure series.

Cynthia Sax: What excites you about Seven Sensuous Days?
Tina Donahue: I love writing about people who've had a tough time with love, as most of us have had in the real world. That means that we haven't been able to find it, or we've been hurt in the past.
In Seven Sensuous Days, Tessa's more or less given up on anyone loving her. Although she's pretty, she's also curvy and had been bullied as a kid about her weight. That hurt is still with her. However, she's one of the most upbeat characters I've ever written. Funny and sweet with a good heart. A year before the book begins, Logan lost everything he cherished. Now, he wants only to have a good time. He simply doesn't trust anything else, especially intimacy. And then he meets Tessa. She reminds him of spring, all that's good in the world, everything being renewed. However, that also frightens him badly. And so he resists.
I love the interplay between them, the depth of their characters, their yearning souls. They're both good people who've finally found each other. J
Cynthia Sax: What is your favorite line from Seven Sensuous Days?
Tina Donahue: When Tessa arrives at Logan's estate to begin her seven sensuous days, she says to him: "I'd like us to get to know each other a little bit before we, well, you know, do anything."
This really sets the stage for their romance. Although she's an escort and he's a man who doesn't want to get close, you just know that dynamic isn't going to last. They've wanted each other too badly from the first moment they met. Logan resists and Tessa persists, lovingly tearing down his barriers, burrowing deeper into his heart, making him laugh, bringing his life back.
Good stuff.

Cynthia Sax: How does Seven Sensuous Days start?
Tina Donahue: It begins with an erotic auction sponsored by the agency where Tessa works. The proceeds are going to charity – mainly breast cancer research and academic scholarships for women. The mansion where the auction takes place has been decorated to look like a sultan's lair. The men in the audience, all powerful and wealthy, bid on the lady of their choice, buying one evening or a full day of her time. The setup is rich and seductive with the women posed on stage, nude and in chains, as though they're being sold at a slave auction.
I wanted to start Seven Sensuous Days with a bang, so to speak. However, while making it erotic, I also wanted Tessa's personality to come out. Again, she'd been teased as a child about her weight. She's still curvy. Like the redhead in Mad Men. She's uncertain if anyone will bid on her. Then Logan comes along and what he does stuns Tessa and the audience. It sets into motion a romance that nothing can stop, not even Logan's initial resistance.

Cynthia Sax: What is one aspect that makes Tessa and Logan right for each other?

Tina Donahue: They're both good people. I know there will be those who think Tessa's less than honorable for being an escort. However, she has her reasons. And she's the finest person I've ever written. Logan's the same, though he has lost his faith in anything good and lasting. She coaxes him back to trust, showing him there is a future, that love doesn't always hurt. Without her, he would have drifted. With her, he's found a home.

Cynthia Sax: Is Seven Sensuous Days a series and will you be writing more stories in this series?

Tina Donahue: Yes, this is a series. Claiming Magique started it all. Losing Control is book two. Illicit Intent, book three. All of them sexy but also exceedingly romantic.
And yes, I will absolutely continue the series as long as my fans enjoy it. J
Thank you, Tina Donahue, for joining us today!
Tina Donahue's Website: http://www.tinadonahue.com/
*****************************************************************************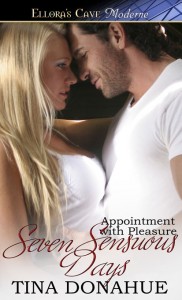 At an erotic auction, she's his to bid on…to take…to command.
The night's sultry, filled with carnal promise as Tessa participates in an agency event to raise money for charity. She's chained and bared—as women were once displayed for a sultan's harem—her sweet looks and full figure offered to the wealthy and powerful men.
Among them is Logan. To him, Tessa is so different from his late wife, the seemingly perfect female who cruelly stole his hope and future. Wanting only to forget and have a good time, he wins Tessa, demanding she be his in every way possible, engaging in all wanton acts, though not only for an evening…for seven sensuous days at his secluded Virginia estate.
A provocative proposal with such a dangerously virile man.
A week that changes everything, with Tessa's exquisite vulnerability and Logan's suddenly unquenchable desire more than either bargained for.
Buy Now From Ellora's Cave: http://www.ellorascave.com/seven-sensuous-days.html