I sat down (virtually) with Ayla Ruse for a short interview. Ayla Ruse writes hot erotic romances and her latest release is Raspberries and Wine, a sexy Contemporary with BDSM elements.

Cynthia Sax: What excites you about Raspberries and Wine??
Ayla Ruse: I like that this story goes against the popular stereotype of the older woman being the experienced seductress to the younger man. Not every older woman has it "all together" when it comes to sexual experience. I like that Stacy thinks she should be this way, wants to be this way, but can't quite reach that goal. I don't want her to live a ho-hum life. She deserves to have a rich, fulfilling sexual side. All it takes is the right man to help her see, trust and pull out her inner strength and desires.
Cynthia Sax: What is your favorite line from Raspberries and Wine?
Ayla Ruse: Graham tells Stacy, "Turn around." As words by themselves, it's dull. But where it comes in the story is belly-clenching (at least, to me). Before this we see Stacy wanting Graham but not sure how to approach him. We see her warring internally—should she seduce him or ask him to leave? When her struggle is at its end point, we see the change in Graham. He knows when it's time to take control, and we see this (as does Stacy, even if she doesn't realize the full implication yet) in this one line.

Cynthia Sax: Where did you get the idea for Raspberries and Wine?
Ayla Ruse: Whenever I'm developing an idea for a new story, I usually begin with conventional thought, then try to find a twist. How to make the norm a little different. The call for the Paramour collection was for an older woman/younger man relationship. Most people typically see the older woman seducing the younger man. But what if the dynamics are different? What happens then, and more importantly, why? From this seed of an idea came Raspberries and Wine.

Cynthia Sax: How does Raspberries and Wine start?

Ayla Ruse: Raspberries and Wine begins with the heroine, Stacy, getting ready to open the door to her Valentine's Day date. She's expecting an old high school crush. When she opens the door to his handsome son, she experiences a vast array of emotions: disappointment, attraction, and nervousness, to name a few. I started at this particular point because I want the reader to also experience these emotions and see that as the story progresses, Stacy is not as in control as she projects. This, in turn, allows both Stacy and the reader see and understand the underlying strength in Graham, and how important this affects their relationship.
Thank you, Ayla Ruse, for joining us today!
Ayla Ruse's Website: http://www.aylaruse.com
*****************************************************************************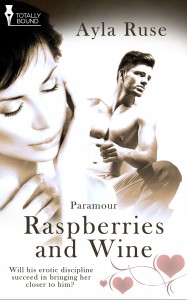 When Stacy opens her door on Valentine's Day, it's not to the man she expected, but to the man who'll give her what she needs.
It's Valentine's day and newly liberated divorcee Stacy Dalton has a plan: seduce her former classmate and end the post-divorce intimacy drought. She's cooked a meal, she's dressed to the nines, and she is crossing her fingers that tonight she will not go to bed alone. There is a slight hiccup in the plan when it's not her former classmate that shows up with an easy smile and a hungry look–but his drop-dead gorgeous son.
Twenty-nine year old Graham Rosen has always been attracted to older women. So making last-minute plans to take out his father's cancelled date seems an effortless and enjoyable task–especially when he sees the sable-haired beauty who opens the door. Unfortunately, Stacy seems hung up on their age. Even after giving in to Graham's erotic attentions, the beautiful cook refuses to acknowledge any possible future to their relationship.
Some women need a strong man–with an even stronger hand. Graham is no mere boy to shy away from a challenge and he is more than willing to show Stacy he's serious about his desire for her beyond just one lustful night. But will his erotic discipline succeed in dissolving Stacy's hesitations and bring her closer to him? Or will it scare her away?
Reader Advisory: This story involves a submissive older woman, a Dominant younger man, public foreplay, delicious food, and intense, meaningful spankings.
Buy Now: https://www.totallybound.com/raspberries-and-wine?author_id=159