I sat down (virtually) with Wendi Zwaduk for a short interview. Wendi Zwaduk writes hot erotic romances and her latest release is Drawn Together, a sexy Contemporary with one of my favorite kinks, voyeurism.

Cynthia Sax: What makes your hero, Graig, so damn sexy?
Wendi Zwaduk: He's a former baseball player and a current coach at the high school level. Guys in uniforms are always sexy—especially when they are all muscles. I've had a thing for baseball players and when he started talking, I was happy to write his story. He's not the jerk jock like some can be. He's one of the few good guys who has athletic ability. Another thing that makes him sexy is his heart. He genuinely cares for others, even if he's not always good at showing it. He tends to stumble over what he says, but it's cute in a geeky way.
Cynthia Sax: What is your favorite line from Drawn Together?
Wendi Zwaduk: "If your crush is any kind of real man, then he's an idiot if he passes you up. I doubt he will. But if he does, then there's a whole room of hunky men out there. Don't sell yourself short. You're a very beautiful woman."
I like this line—or rather, set of lines because it's the heroine's sister helping to build the heroine up. Tessa, my heroine, is a good person, but she's very self-conscious and has low self-esteem. She needs someone to help prove she's not the boring woman she sees in the mirror. This line is special to me because we all need that person to jumpstart the change we want to make. For Tessa, she needs someone else to say it before she can believe it. I think lots of people can relate to her struggle and would love to have someone remind them of how special they are.

Cynthia Sax: Where did you get the idea for Drawn Together?
Wendi Zwaduk: The idea came from my days at the school teaching art. I was already married at the time, but I wondered what would happen if some of the teachers hooked up. I didn't do much with my idea because I was focused on teaching. When I quit to raise my tot, I let the idea work some more. I pitched the general story to Kelli Collins over at Ellora's Cave. She gave me lots of tips and suggested I contact her when I got it done. It took another year and a lot of polishing, but it finally went to an editor. Whitney saw promise in the story and helped me turn it from a submission to a finished work. I'm glad. Writing about teachers and the setting I knew so well was fun. I'm excited I get to go back to their world for two more stories.

Cynthia Sax: What one piece of advice would you give new writers?

Wendi Zwaduk: Grow a thick skin, but be willing to learn. There will always be people out there ready to knock you down, but it's how you get up that counts. Don't be negative. Don't bite back at anyone, even when you really want to. Never burn bridges and be willing to work for what you want. If you settle, then you'll never get where you want to go. I know that's a lot of advice, but it all works together.
Thank you, Wendi Zwaduk, for joining us today!
Wendi Zwaduk's Website: http://www.wendizwaduk.com/
*****************************************************************************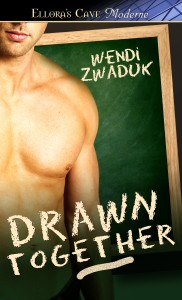 Graig Case wants to teach history and coach baseball. Plain and simple. But nothing in his life has been simple. He's also got a secret. He loves to watch the sexy woman across the courtyard dance. He'd love for his fantasy girl to be his best friend, but fantasy and reality don't always mix.
Tessa Martin has given up on love. She's played second fiddle most of her life. Guys like hanging out with her. But being one of the guys doesn't keep her warm at night. Still, she indulges in her one treat—dancing naked at night for Graig. No emotions involved means no one gets hurt.
Except when they end up working in the same school, in the same hallway. Then all bets are off.
Inside Scoop: This lucky hero gets to take control when his new girl encourages him to spank her.
A Romantica® contemporary erotic romance from Ellora's Cave
Buy Now From Ellora's Cave: http://www.ellorascave.com/drawn-together.html
Buy Now From Amazon: http://www.amazon.com/dp/B00HQH99KW/
Buy Now From Amazon UK: http://www.amazon.co.uk/dp/B00HQH99KW/
Buy Now From ARe: https://www.allromanceebooks.com/product-drawntogether-1395216-340.html