I sat down (virtually) with Declan Sands for a short interview. Declan's latest release is Oh! Hoaley Night!, a sexy Christmas story.

Cynthia Sax: What do you love about Oh! Hoaley Night!?
Declan Sands: I absolutely love the Christmas season. And I love small town mysteries, so what could be better than a small town mystery at Christmastime? Like many people, part of my history with the season involves traveling home to be with my family at Christmas. That was the inspiration for Oh! Hoaley Night!. In the first 3 books of the series, there wasn't a lot of information about Adam's family. He's moved away from the small town in Southern Indiana where he was born and raised and rarely visits his parents. Adam and his dad haven't always seen eye to eye on things and, rather than work things out, they've pretty much just avoided each other whenever possible. But, as we've all experienced, it's hard to avoid each other during the holidays! This forced togetherness sometimes brings about revelations we might not otherwise have faced. That's the setting for the story, but when Adam arrives in his home town of Candlelight, Indiana, things get even more complicated. There's a dead body in the manger of the living crèche, and Adam's dad appears to be the chief suspect.
Cynthia Sax: What is your favorite line from Oh! Hoaley Night!?
Declan Sands: My favorite line from the book is the opening line. Because it pretty much sums up how painful it can be spending extended family time during the holidays:
"That's crazy talk, Ads. Visiting your family is not like being castrated with a rusty can opener." #:0)

Cynthia Sax: Where is Oh! Hoaley Night! set?
Declan Sands: As I mentioned above, Oh! Hoaley Night! is set in a small town in southern Indiana at Christmastime. I've always loved writing about small towns. They're a whole entity of their own. Just as a large city has a unique pulse and flavor, small towns have a totally different feel to them that I find fascinating. In a small town everybody knows everybody else, and probably has from birth onward. Most of the inhabitants of a small town have some kind of history with your characters and, probably due to the innate nosiness bred into this kind of setting, most people will have some kind of secret they're trying to keep. It can make for really fascinating fiction, especially in a murder mystery!

Cynthia Sax: Is Oh! Hoaley Night! part of a series and will you be writing more stories in this series?

Declan Sands: Oh! Hoaley Night! is Book 4 in my Hoale Construction Mysteries series. I'll definitely be writing more books in this series, in fact I've already started penning the next one, tentatively entitled By All That's Hoaley.
Thank you, Declan Sands, for joining us today!
Declan Sands's Website: http://www.declansands.com/
*****************************************************************************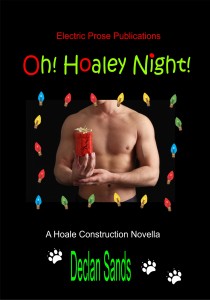 Sometimes going home is clarifying. Sometimes it's just plain deadly!
Adam travels to Candlelight, Indiana to visit his parents for Christmas. When he arrives he discovers somebody has killed a man and dumped him in the manger of the living crèche at the local church. Unfortunately, all signs lead back to Adam's father as the murderer. A Sheriff with a grudge and a small town more interested in gossip than reality, convince Adam that it will be up to him and the gang to clear his father's name.
Buy From Amazon: http://www.amazon.com/dp/B00GTMQEKS
Buy From ARe: https://www.allromanceebooks.com/product-ohhoaleynight-1352639-149.html
Buy From B&N: http://www.barnesandnoble.com/w/oh-hoaley-night-declan-sands/1117542756