I sat down (virtually) with Sabrina Darby for a short interview. I LOVED Sabrina Darby's The Short and Fascinating Tale of Angelina Whitcombe. Her latest release is Private Research, a sexy Contemporary Romance.

Cynthia Sax: What makes Sebastian so darn sexy?
Sabrina Darby: In the first chapter of Private Research, Mina describes Sebastian Graham: "He wasn't traditionally handsome, at least not in an American way. Too lean, too angular, hair receding a bit at the temples, and I was fairly certain he was just shy of thirty." However, what really attracts Mina to him is his intelligence. Sebastian is a mixture of math geek and elegant scion of English aristocracy.
Cynthia Sax: Where is Private Research set?
Sabrina Darby: The story takes place in contemporary England, primarily in London with a few excursions. Both Mina and Sebastian have their own research projects, and those projects take them to various places about England, into private homes, clubs, and archives. I think the hunt for information is exciting but is made even more so by their relationship and attraction to each other.

Cynthia Sax: Does anyone in Private Research have a secret? I LOVE secrets.
Sabrina Darby: Both Sebastian and Mina have secrets but probably the people whose secrets are most compelling are the ones who are peripheral to the romance: Anne Gracechurch and Madame Rouge. Anne's secret is the mystery of whether or not the early 19th century novelist wrote three novels under a male pseudonym. Madame Rouge, much like the Dread Pirate Roberts, is a position that masks the real identity of the proprietress of the secret, underground club, Harridan House.

Cynthia Sax: Is Private Research part of a series and will you in be writing more stories in this series?

Sabrina Darby: Private Research is set in the same "world" as my erotic Regency novella collection, On These Silken Sheets. All four novellas revolve around an erotic club, Harridan House, and Private Research came out of the question, what happened to Harridan House. I'd love to write more stories in the Harridan House world, regardless of the time period.
Thank you, Sabrina Darby, for joining us today!
Sabrina Darby's Website: http://sabrinadarby.com/
*****************************************************************************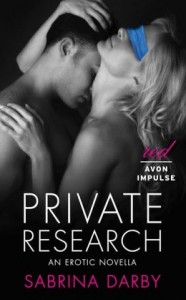 The last person PhD candidate Mina Cavallari expects to meet on her research trip to London is the sexy financier whose rejection devastated her. But Sebastian Graham is even more irresistible than he was two years ago, and she's no longer the innocent girl shocked at his indulgent pursuit of physical pleasure. Now she's ready to embark on a love affair on her terms—and is using every possible moment to live out her fantasies.
Sebastian is more than happy to help Mina make her passionate dreams a reality. But he wants more, luring her into a search for a mysterious, underworld club where they can explore all of their sexual desires. He needs Mina completely at his mercy, and, unlike two years ago, this time he may not let her go.
Buy From Amazon: http://www.amazon.com/Private-Research-Erotic-Novella-ebook/dp/B00CKOVAJE
Buy From B&N: http://www.barnesandnoble.com/w/private-research-sabrina-darby/1116759072