I sat down (virtually) with Anne Kane for a short interview. Anne Kane writes hot erotic romances (I LOVE her Imperial Were-panthers) and her latest release is Mercenaries 2: Running Scared, a sexy Futuristic Romance.

Cynthia Sax: What makes Jackson, the hero in Running Scared, sexy?
Anne Kane: Jackson may be a mercenary, but he has a heart of gold. He's the only survivor of a government raid that wiped out his entire family, and he swore he'd never be that defenceless again. He's spent the last few years of his life learning every weapon and hand-to –hand technique he can find. He joined the Kaeden's mercenaries because he believes in what they stand for. The group had its own agenda and only take on contracts that they feel are worth fighting for. They make enough to survive on, and not much else. Not the most lucrative way to run a company, but then, money doesn't mean a lot to people who've seen everything they love blown to bits. One of the things that attracted him to Saralyn is her dedication to finding her brother – he wishes he had someone left to find.
Cynthia Sax: Does a character in Running Scared have a secret?
Anne Kane: Well of course they do, but if I told you then it wouldn't be a secret, now would it! I'll tell you this much – it's Saralyn's secret and Jackson guesses it almost right from the beginning. He just can't get her to admit that he's right. Women can be so stubborn at times!

Cynthia Sax: Is Running Scared a series and will you be writing more stories in this series?
Anne Kane: This is book two of my Mercenaries series, and yes I will definitely be writing more in it. I love a man in uniform, I love guys who are loyal to each other and to their own code of honor, and I love it when I can give them the love that they deserve.

Cynthia Sax: What one piece of advice would you give new writers?

Anne Kane: Don't give up! Believe in yourself! (That's two pieces of advice, isn't it) Everyone will give you advice, and often it is conflicting but just take what you like and leave the rest. I had my first story entered into two contests at the same time. It was ripped to shreds by a contest judge who had absolutely nothing good to say about it or my writing abilities, but then it won the other contest – first place with a publishing contest and a hefty advance. Remember that writing is an art and appreciation of art is subjective. What one person likes, another may hate. You certainly can't please everyone. So long as you believe in yourself, and don't give up you will eventually get to see your name on a published manuscript.
Thank you, Anne Kane, for joining us today!
Anne Kane's Website: http://www.annekane.com/
*****************************************************************************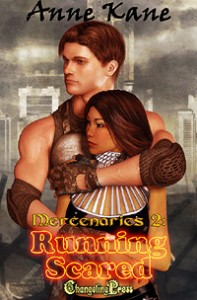 She was a genetic experiment that was never supposed to get out of the lab. If the government finds her they will kill her without hesitation. Her memories of her early life are sketchy but the one clear image she has is of a brother who saved her life, and then disappeared.
Jackson knows what it's like to lose your entire family in one bloody instant, and he vows to help Saralyn find hers. It doesn't hurt that he finds her irresistibly sexy or that the attraction is mutual. They enlist the rest of the mercenary team in a search operation that takes them into the heart of the corrupt government.
Buy From Changeling Press: http://www.changelingpress.com/product.php?&upt=book&ubid=2097