I sat down (virtually) with Chandra Ryan for a short interview. Chandra Ryan writes hot erotic romances and her latest release is Ulterior Motives, a sexy SciFi Romance.

Cynthia Sax: What makes Jasper sexy?
Chandra Ryan: Jasper is sexy because he's an ordinary guy who is dropped into an extraordinary situation that shapes him into a hero. He doesn't start out as an alpha. He's just a lawyer who wants to help people. That's his passion. But when helping Kat gets hard, and even a little dangerous, he stands his ground to protect the woman he loves. Does it get sexier than that?
Cynthia Sax: Where does Ulterior Motives start?
Chandra Ryan: Life as a rancher on a settler planet is hard and lonely for my heroine, Kat. So, resourceful woman that she is, she placed an ad for a husband. She doesn't expect to fall in love with or feel passion toward the man who responded to the ad. But she does want a partner.
My story starts at the space port where she meets her future husband for the first time. Or, at least, the man she believes is going to be her future husband. I picked that moment because that's where it all starts for them. We get to see their first impressions and also witness how those assumptions frame their relationship. She immediately thinks he's too soft for the harsh life of a remote planet and he only sees her as a tough, practical businesswoman. As they get to know each other, though, they discover how wrong those initial impressions were.

Cynthia Sax: Where is Ulterior Motives set?
Chandra Ryan: Ulterior Motives is set on a remote settler planet some time in the distant future. Which is exciting and sexy because it's like the wild west only with space travel and modern technology. You get to have the best of both worlds. The rough and gritty dangers of the past but with good hygiene and coffee on demand.

Cynthia Sax: Does anyone in Ulterior Motives have a secret?

Chandra Ryan: Oh, yes. Jasper has a secret. Actually, he has more than one. It starts with him being there under false pretenses. Kat thinks he's there to marry her but he's actually there to investigate a claim against her land. His second secret is revealed when you find out his father is… Oh, wait, maybe I should let you discover that one on your own.
Thank you, Chandra Ryan, for joining us today!
Chandra Ryan's Website: http://www.chandraryan.com/
*****************************************************************************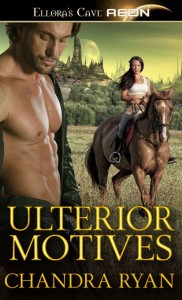 Universal Defiance, Book One
On a rural settler planet, Kat must resort to putting out an ad to find a husband. She doesn't expect to find love—that's a dream in these parts—just a partner to help work her ranch. Then the devastatingly handsome Jasper answers her ad and turns her on in ways she never dreamed possible. Too bad he's not who he says he is.
Jasper doesn't know what he's getting into when he ventures undercover to investigate a legal claim against Kat's ranch. But after a toe-curling night under her roof and in her bed, he's willing to do anything to stay there. He can't say no to the tough-as-nails businesswoman who makes his body come alive.
When people start getting hurt, though, both Kat and Jasper have to decide how valuable one piece of land is. And the ranch that brought them together might be the very thing standing between them.
A Romantica® sci fi erotic romance from Ellora's Cave
Buy From Ellora's Cave: http://www.ellorascave.com/ulterior-motives.html
Buy From Amazon: http://www.amazon.com/Ulterior-Motives-Universal-Defiance-ebook/dp/B00DSOY4SO