I sat down (virtually) with Silvia Violet for a short interview. Silvia Violet writes hot erotic romances and her latest release is Meteor Strike, a very sexy MM contemporary.

Cynthia Sax: What do you find especially exciting about Meteor Strike?
Silvia Violet: I have a thing for geeks. My husband is a physicist, and I got to consult with him for this book and it's companion story, Astronomical. He's always supportive of my work, but getting to have him check my geek talk and make sure the science was correct was very fun. I also enjoyed getting to use my working knowledge of how geeks think as I developed my characters. Matt, one of my main characters, works as a post-doctoral researcher at LSU where my husband and I both went to graduate school, and it was also exciting to revisit Baton Rouge in my mind as I wrote.
Cynthia Sax: Where did you get the idea for Meteor Strike?
Silvia Violet: I was sitting in the airport in Albuquerque with fellow author, Hank Edwards, waiting to head home from the 2012 Gay Rom Lit conference. We were talking about how much fun we'd had, and I explained how my husband went to lots of science conferences and that even though most people would think the scientists spent all their time in geekish pursuits, there was just as much drinking and hooking up as any other conference. Hank said I should write a book about a science conference and we brain-stormed how the main characters could be graduate students of Greg MacIntyre's, the astronomy professor from my story, Astronomical.

Cynthia Sax: What causes conflict between Matt and Alan?
Silvia Violet: Matt and Alan spent six months working together on a project when Matt was still in graduate school. Attraction sizzled between them, but Alan was in the closet and Matt had a bad experience with a closeted lover in the past and refused to date anyone who wasn't willing to be open about their sexuality. He was also looking for a relationship and Alan was a one-night stand type of guy. When they meet again a year later, he learns how off many of his assumptions about Alan were.

Cynthia Sax: Does someone in Meteor Strike have a secret?

Silvia Violet: Alan has a secret. He fell in love with Matt during the six months they spent working together, but he was too afraid to admit it, because to pursue Matt he'd have to come out as gay to his co-workers. After months apart, he misses Matt too much and decides to pursue him no matter how high the stakes are.
Thank you, Silvia Violet, for joining us today!
Silvia Violet's Website: http://silviaviolet.com
*****************************************************************************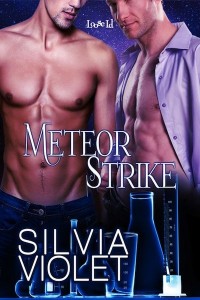 Astro-physicist Matthew Dansk falls for one of his colleagues during a research trip, but Matt is looking for a serious relationship and he doesn't date men who are in the closet. Alan has no interest in letting anyone find out he's gay and he never goes out with the same man twice. When the two men part ways, Matt believes their situation is hopeless, and he does his best to forget his feelings for Alan.
Months later, Alan winds up in the hotel room next to Matt's at a conference, and both men realize the chemistry between them hasn't diminished. As they spend time together, Matt sees a different side of Alan. When he realizes Alan's feelings for him run deeper than he'd thought possible, he begins to hope that they can be together after all.
Buy From Loose Id: http://www.loose-id.com/meteor-strike.html
Buy From Amazon: http://www.amazon.com/Meteor-Strike-ebook/dp/B00DR52CIS
Buy From ARe: https://www.allromanceebooks.com/product-meteorstrike-1227949-149.html